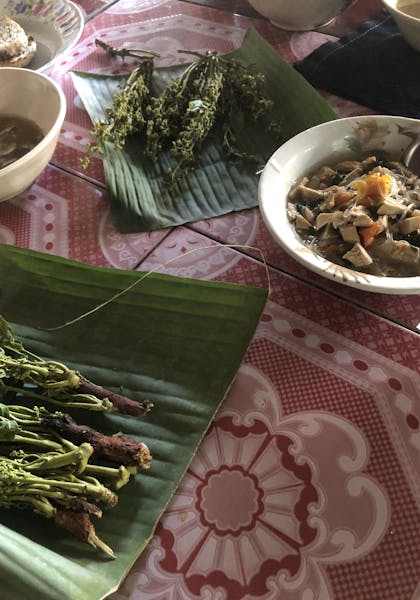 Learning what food sovereignty means | เรียนรู้ว่าอธิปไตยทางอาหารหมายถึงอะไร
---
This article is part of the second issue of "The Sauce - on food, community and inspirations", a theme-based journazine on seeds. The inaugural issue focuses on soil, print edition of the full first issue is available here.
---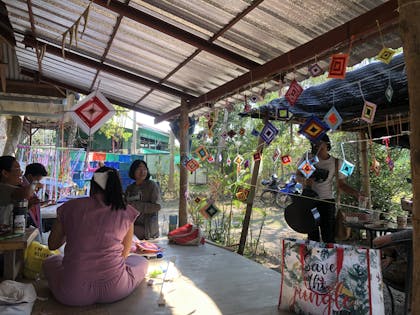 I hadn't really known, until I got to Mae Tha subdistrict, what food sovereignty means.
Mathana Aphaimool, or P'Pui as I call her, has eyes that shine. She, as a friend has said of Singapore's longest-held political dissident Chia Thye Poh (32 years in all), is one of the freest people I have met.
P'Pui's eyes have a glow to them; a steady gaze that holds a wellspring. One evening, I would watch as they fill with tears and overflow. But that comes five days after I arrive.
My arrival to Mae Tha subdistrict, village 5, is quiet. I sit with P'Pui and her mother, whom I know only as Mae, for lunch.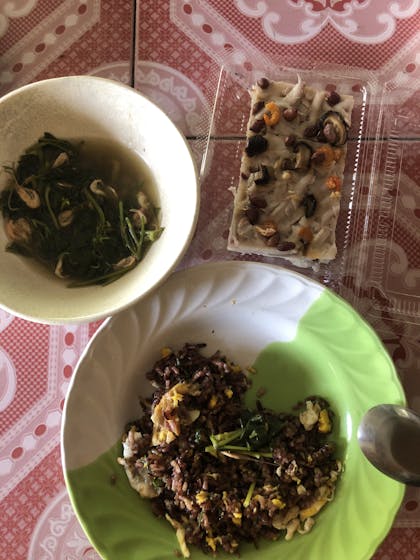 My first meal is fried rice P'Pui whips up, with eggs from the farmer cooperative who raise their own chickens on their farms. These eggs come without the maize feed sold by Charoen Pokphand (CP) for CP's industrial chicken breeds.
There's a soup of local morning glory, ผักบู้งท้องทิ้น, P̄hạkbûng tĥong thîn, and freshly caught shrimp — large ones, and very tasty — from the freshwater ponds in the community's community forest — land the community has mapped out for itself, and marked as usable for the collection of edible plants, wood, and animals. Someone brought them for Mae just a day ago.
I wouldn't fully understand the size and wealth of the forest from which these shrimp come from, until much later - at this point, the idea of a forest pond sounds mysterious and fertile; hugged by a coven of ferns. It is from these forest ponds that the community has its tap water, I learn — potable water that I drink right from the tap. Clear, sweet, nothing like some of the bottled water sold at 7-Elevens.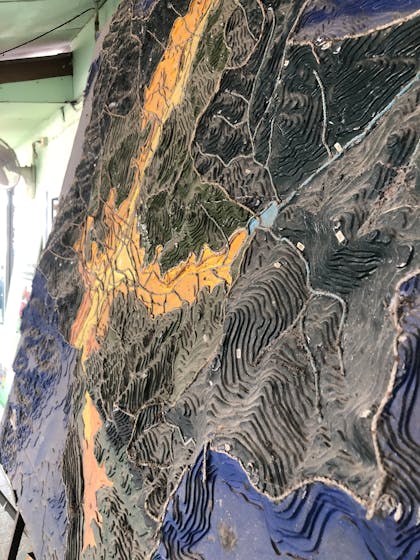 Close-up of the community's community-made 3D topographical map of its community lands: 
Yellow for residential dwellings; Orange for agricultural lands; Light green for community forests (where food items can be gathered); Dark green for conservation forest. 
The community has been at loggerheads with the Royal Forestry Department for years, and continues representing the land it uses and knows, for itself. The Community Forestry Bill, introduced in 2019, provides the state the ability to claim community forest as a natural resource belonging to the national interest, removing the rights of the community's access to use the products of the forest.
Food here is fresh from the field or forest, kept for a day at most. A refrigerator serves to keep things as needed — the family has a beautiful red Singer one with the Singer label proudly displayed at its foot (bearing testament to its age). It's still going strong.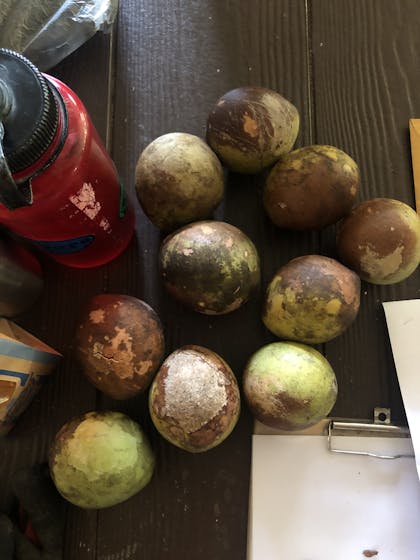 Freshly picked bael fruit, waiting for a chance to be cooked to make bael tea, or eaten ripe.
P'Pui tells me there's some bael fruit they'll plan for making tea with, in the evening.
With a young generation, I see that culture is not static, but flexible.
Over lunch, P'Pui tells me how any unfamiliar food can be cooked in any way I'd like: you don't have to use any recipe. The menu can change. Just cook it how you like.
Like me, I quickly learn from her that urban folks who visit the markets that P'Pui's mum sells at — at the Chiang Mai Canal Road's weekly organic market (Tuesdays, Thursdays, Saturdays) — don't buy unfamiliar vegetables because they don't know what to do with them.
There's no specific menu, P'Pui says. Use it however you like.
It makes me wonder how much of our palate is colonised too: the idea that there is a civilised way to use an ingredient goes with that image of the snobby French cookbook, the male chef, the right etiquette and table manners.
Over the next 9 days of my stay, P'Pui talks often about the way the food at home is free of MSG, and how local vegetables add diversity to one's palate.
"Why narrow your world?" She says, holding her hands up to mimic a horse with blinders. "People in cities only eat a small fraction of what's available. You can tell by what's in the market. How many varieties of vegetables do you eat in a week?"
"5 to 8", I and P'Nueng (Srisuda Chompan), who's agreed to help me with interpretation for this fieldwork visit, guesses.
The number of vegetables we've eaten here in the past days has been slightly over 12. And that's a fraction, not the limit, of what's available in the agroforest-garden that P'Pui's father, Por Phat Apahimool, first began planting 34 years ago. Today, the forest-garden bears an edible abundance of perennials for different seasons: the hard work of the first five years now means a luxury of food they can harvest.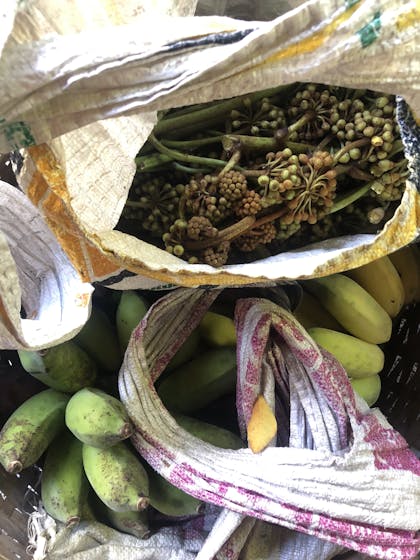 Bananas (not the Cavendish but the tastier, fleshier กล้วยน้ำว้า kluey nam wah — more satisfying for the belly and lower in simple sugars than the Cavendish — now largely from monocrop plantations). In another bag, a mix of ต้างหลวง (tang luang), also ต้างป่า (tang pa) ต้างผา (tang pha), Trevesia palmata, from the family Araliaceae. Leaves, flowers and blanched fruits are eaten with chilli paste. Flowers and seeds to nourish the body; flowering January to February, fruiting March to April. A shrub 6m tall.
Tastes - Sweetness, Bitterness and Power
Bitterness is part of the palate in Isan and northern Thailand.
This idea of beneficial bitterness is nothing new. "Bitter medicine is good medicine", I've been told since I was a child. I'd always thought it was just a bit of medicinal advice: out-dated and out of place, repeated by crusty old grandmas who didn't understand my generation's tastes and desires.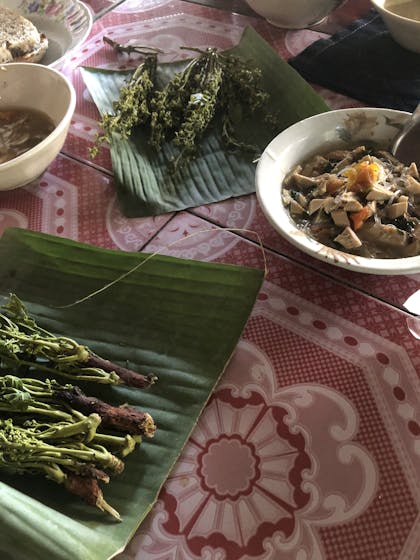 Raw neem, harvested from the family's agroforest garden, and young jackfruit soup.
Neem for instance, bitter when eaten raw, is softened by the soups. P'Pui says a compound in chillies, common in Thai food (particularly Isan and northern Thai), Lao, Vietnamese and Burmese food, smoothens the bitterness so it's more palatable. 
This compound, capsaicin, has been the focus of scientific studies. One study finds that it suppresses sweetness, bitterness and umami, but not saltiness and sourness.
It also explains why these cuisines prioritise freshness in their ingredients — and the popularity of cornershop wet markets, rather than supermarkets. More importantly, I can now revisit a scene I've seen many times before, of Isan friends gathering over a meal of fresh herbs — so unfamiliar to my 90's city kid eyes — sawtooth coriander, Thai basil, mint, Ivy gourd (ตำลึง, dam leung), ผักเผ็ด (pak phet), neem (สะเดา, sadaow), ผักกูด (pak kud, Diplazium esculentum), กระถิน (kratin, Leucaena leucocephala) — eating them raw, fresh, dipped in spicy chilli paste.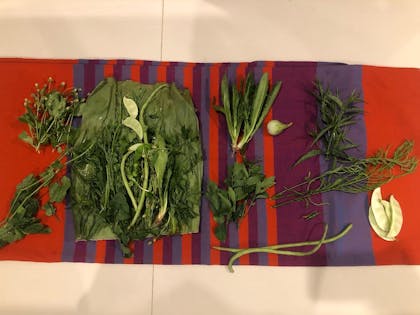 A handful of edible herbs and plants: from top left — pak phet, lablab bean, sawtooth coriander, Thai eggplant, pak waan, ketin, more lablab beans, long beans, ton ki lek, dam leung.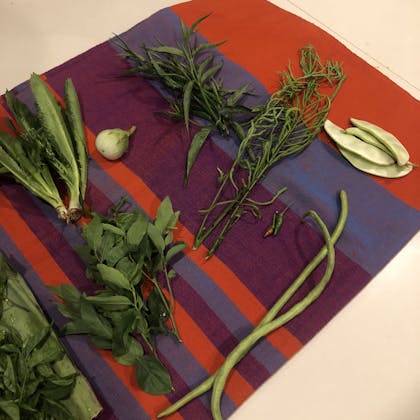 It sounds so simple. Yet, urban folk spend disproportionate parts of their salaries on raw and vegan diets that are increasingly also made of processed ingredients, as supermarket chains begin to source and stock vegan products.
As P'Pui showed me, from Day 1 with her, and as generations of small-scale farmers and land advocates have spoken strongly about for years, the land has all the medicines we need.
My first day back in the city, I marvel at how much of our lives are taken over by the sugar industry. The variety of vegetables I've brought back with me, just a day-old, feeds and fills me up, belly-full and heart-full, with the earthiness of plants of the land harvested fresh, still dew-green and crisp.
P'Pui doesn't need to bat an eyelid to describe a food system beyond the controlled distribution centres of supermarket chains. She lives it. Without using the phrase "food sovereignty" much — we definitely discuss it, but she refers more often to "food security" — she has more control over what goes into her body, than most of us in the city, do.
Washing the vegetables from her village for my own dinner a night later, fresh out of the village, I realise I don't have to cook them - and that I can eat them raw, without worrying about them being too 阴 "yin" - cool in Traditional Chinese Medicine terms. It's a revolutionary thought for me who's had to live in a rented room without a kitchen for the past 6 weeks, living off street food and processed food, and feeling my body's cold "yin" constitution kicking up.
The direct transfer of sunlight to my body does more for my energy levels than anything I could have bought from a supermarket. It brings to mind a recent Mongabay investigative journalism piece on logging in the Brazilian Amazon, where someone describes the forest as their supermarket. Now I know for certain, it's just infinitely better.
Check out this video on how palm oil industries infringe on indigenous community rights in Brazil.
Inedible Amnat - Power that creates what?
So, although I'd never realised before why Isan food was so appetising, I now look back with great appreciation at my Isan friends holding fresh and boiled vegetables between their fingers, rolling up the vegetable leaves, dipping them in น้ำพริก, nam phrik (chilli dips; some are made from chilli and lime, and some have fermented shrimp paste).
Amnat is used by Thai friends to describe the power of Bangkok, the capital of Thailand. When P'Pui mentions it, she sucks in her breath, puffs out her chest, and mimics a steady squared sitting stance. Amnat is the ability to decide what's right and wrong, the rules others must follow. In Thailand, amnat emanates from Bangkok, the centre, and the administrative offices that bring this power into the provinces, from the Centre.
There's another way of looking at the centre, though. The Centre, capital city, is also where people, shorn of their knowledge of edible landscapes, eye one another for cultured behaviour. P'Pui described a trip her father made many years ago to Manila, the Philippines, on a visit to the International Rice Research Institute (IRRI), where he gathered edible plants from the roadside and prepared them for his own meals. Seeing him doing this, others at IRRI laughed at him: "You're eating like an animal!"
Another way of looking at the centre, from what I have seen of a small but growing group of urbanites, is the awareness of absence: a city that's not very edible is not a nice place to live in.
Seeds, Climate, and Control
P'Pui has some memorable catchphrases.
Who controls the seed, controls the food system.
---
P'Pui says more than once.
12 years ago, P'Pui intentionally chose to begin her life's work as an organic seed grower at Mae Tha. Knowing the difficulties, knowing her own personality, this was not an easy step for her to make. She resolved to learn English, to speak with people despite preferring to be with plants, and to continue her father's work. She chose seeds: while farmers can save their own organic seeds for use, there aren't enough producers of certified organic seeds, that farmers can plant to supply supermarkets.
Ultimately, in order to sell organic produce in supermarkets, supermarkets require certification at two levels: the seed, and the farm.
P'Pui's work introduces me to the supply chain of organic produce, with all its complexities. On one hand, certification serves many purposes, including transparency. Consumers who don't know their farmers want to be sure something is organic. Yet, the high costs of certification becomes a barrier to small-scale growers: barring the small-scale producing and eating system from access to a sustainable future economy.
If this comes as a surprise to many eaters, it is because we pay so little attention to the seed. "People ask about organic food, products grown organically," says P'Pui. "They don't think about the seed. The seed also needs to be organic. Otherwise, the plant itself is not organic."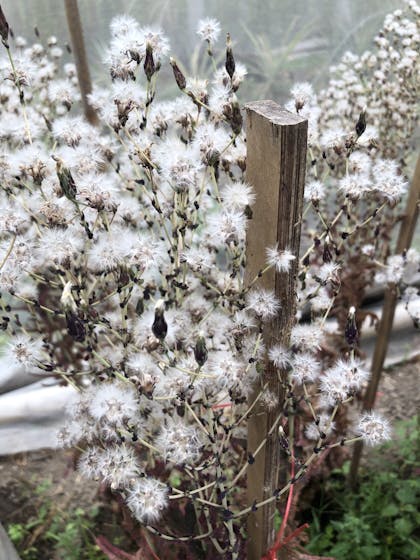 Red oak lettuce seeds under the greenhouse shelter, about 4 months. At 6 months, these dry out and become loose enough to shake out, remove the seed wings and chaff, and pack into sealed foil packaging for sale.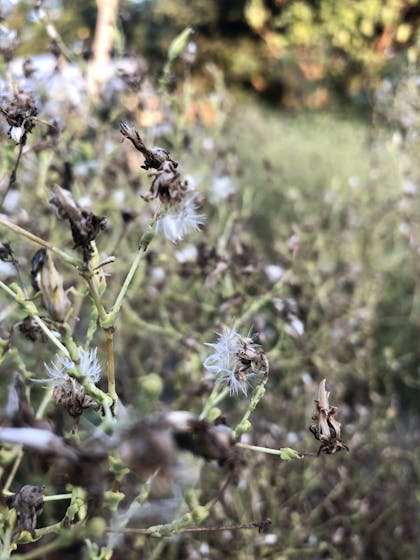 The day I arrive, a rainstorm comes with me. Two days of unseasonal rain means about 40% of the uncovered seeds — those not in the three greenhouses P'Pui has, courtesy of financial support from companies doing their CSR — are damaged by the rains. Some seed bulbs escape the raindrops, spreading their white wings. Many don't — these slowly turn black, light, absent of seed or with damaged seed. We have to remove these before harvest, so as not to reduce the seeds' germination rate.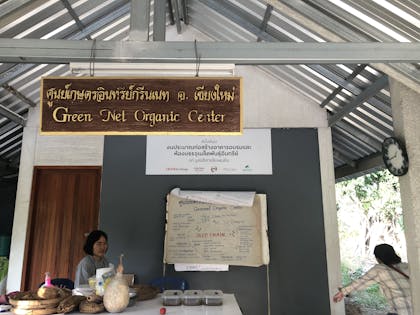 The Green Net Organic Center adjacent to P'Pui's home, was built with collected funds from several groups. Central Group is a key supporter in Mae Tha. "They sort of understood after we'd done the hard work of making it work", says P'Pui. Then support came flooding in. The community chooses to work with groups that engage with them to create their long-term vision. It has turned down other groups wanting to do their CSR (i.e. Corporate Social Responsibility).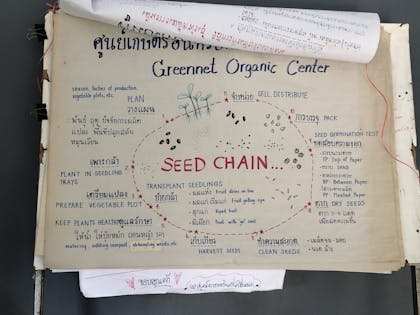 The seed chain — teaching material P'Pui has created over the years, as part of her work as a trainer at Green Net — one of Thailand's largest organic and non-chemical farming learning networks and a non-governmental organisation (NGO).
Climate change is not even something I have to ask about. The day the rain comes — also the day I first arrive, P'Pui spends the afternoon saying little about the rains. She mentions it once or twice. But afterwards I realise she has been listening to the wind, sensing the humidity, watching the clouds on the horizon, and listening out for the roll of thunder the entire time.
Near evening, the skies are clear. We think all is good. There are visitors at the house: two documentary filmmakers and their two homeschooled children. Very bright. This is my first time meeting homeschooled kids of their age. I'm very impressed.
As it rolls towards 10pm, the skies thunder. And then it doesn't take more than half an hour. The winds are gusty. Now I see how worried she's actually been the entire day. She has not said much about her concern, and I realise how little she reveals of her internal conversations. Planning, meditating, considering: what she knows of the techniques and needs of her seeds, is as intuitive to her as a guitarist's intimate knowledge of their guitar.
The morning after the storm, I happen to ask her: are there any stories or legends you know about the rains? If we don't think of science? I use the word ตำนาน, tamnaan.
Without pausing, she says, "I see the ants. มดย้ายเมล็ด, mot yáay meeled."
Sensing it will rain, the ants find an easy, quick source of nutrition. They find the seeds. Over the next two days, with the weather forecast still signalling rain, she watches for the ants. Two mornings in a row, she says, the ants are taking my seeds. "I lose my seeds to the rain, lose it to the ants. Ai."
It's not a sigh of frustration, though. Although I keep thinking she must be frustrated, as the seeds are her major commercial product and work, she seems more amused by the ants and annoyed by the rains, than frustrated. "Climate change," she says. It's not about the big words but the actual effect it has. The discrete signs that the ants and other animals reveal to her, about the local weather conditions - not what a forecasting station says, but when a rain is going to hit, how heavy its drops will be, how gusty the wind will be. Detail matters.
What will you do next year? I ask her. "I won't do this seed again," she says, without a hint of frustration. She's really a lot less concerned than I would have expected. "The red oak is doing better anyway, so I will plant that." Red oak is another variety that's been gaining popularity amongst her online customers — at the moment, trending in Bangkok.
She shows me the red oak. More farmers are planting this now, so the prices are going down; it's getting more affordable. More supply means affordable prices. Farmers can plant it and sell it because a lecturer at Maejo University bred this line of organic seeds. These seeds can be freely regrown; freely reproduced. Some companies tried to sue her. But she was fine — she hadn't done anything wrong.
While urbanites and the Global North grow increasingly concerned with climate change, for the people mediating its effects every day, unpredictable weather is merely one of the things to pay attention to. Without a market for her seeds, planting makes little sense. Without a market, producers grow less and less each year — and with that, the dispersed diversity of organic seed populations and organic foods, diminishes.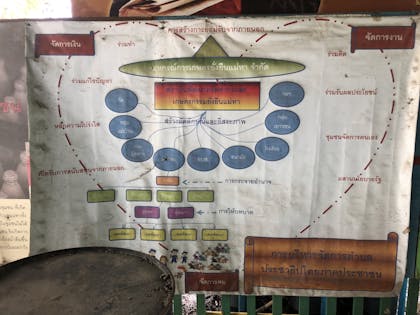 The Mae Tha cooperative with its subsidiary organisations - many commercially viable enterprises, including an elder's group, youth group, and the subdistrict administrative organisation.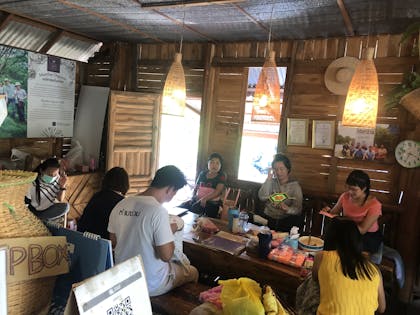 The author joining members of the Mae Tha Organic cooperative community, as they make decorations for their community Valentine's Festival over the weekend.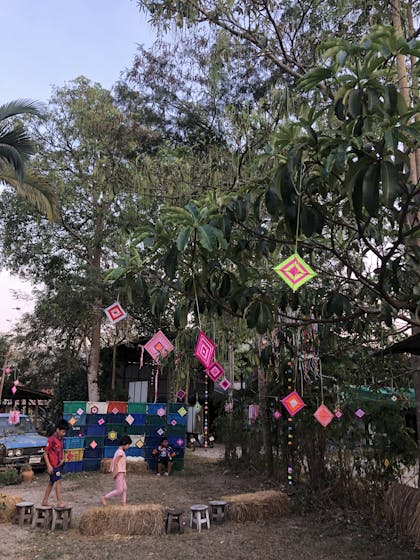 A few days before the festival, the kids are hard at work preparing the seatings too. 
---
This article is part of Beyond Borders. Check out this Community Seed Map to see who else is doing their part to save and share seeds!

As part of the SEEDS issue, we have made this map with the kind support of Kontinentalist. If you are a seed-saver or know of someone or other communities active in seed-saving and distributing initiatives, we invite you to contribute and add to the map! Simply email us at foodscapepages@gmail.com.
We hope you have enjoyed this article! Next, we have, Why Save Seeds?
Click here if you would like to return to the content page.
Research
Personal journey
Ethos
Sustainability
Farming
Agroforestry
Seeds
---
About the author
Huiying Ng likes spending time in nature, with critters, and on observing (and acting in) human social life. She is a geographer with a background in psychological research, with a love for synthesis, ideation and exploration. She writes and develops action research methodologies relevant to agroecological futures, and enjoys creating and working with people across disciplines. She is an initiator of the Foodscape Collective, and TANAH, a nature-food duo, and a member of soft/WALL/studs. From late 2020 she will continue her research to consider agroecology in Southeast Asia and its capacity to respond to the environmental aspects of infrastructural projects in the region. You can also find her on cargocollective.com/huiyingng
Contact Us
Drop us an email or DM on Instagram if you would like to give us feedback, support us in any way, or just to connect!
Foodscape Collective
Foodscape Collective is a ground-up community with a mission to co-create a fair and inclusive circular food system for all. We work together to create communities and livelihoods through collaborative and supportive practices.
---
Copyright (C) 2022 - Foodscape Pages. All Rights Reserved