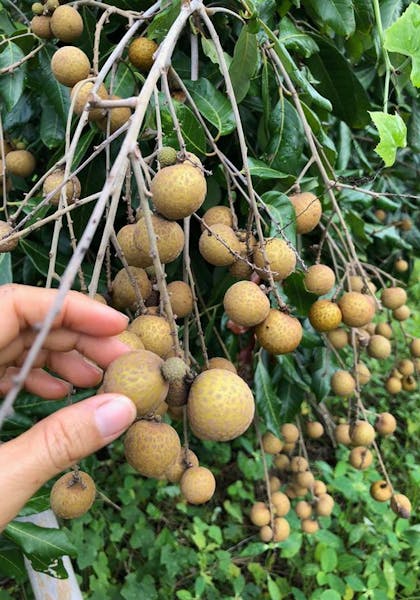 Looking into the Dragon's Eye (Part 1 of 2)
Lim Sixian
11 November 2020
---
This article is part of our theme-based journazine titled "The Sauce". The inaugural issue focuses on Soil, as we believe that soil is the foundation of all things to come. Print and digital copies of the full issue are available here. Check it out for more stories from the community and how Foodscape Collective's projects have come about.
---
---
We were a group of nine, crowded around a table and a laptop in one of the conference rooms in Geoworks, a coworking space in Singapore one Sunday afternoon. On the other side of the laptop screen, Vivian – in the Garden of L.E.A.H, in Chiang Mai, an hour behind – waves at us through a Skype video call. She was very clearly in high spirits. Behind her, the sky was blue. Cloudless. Set in front each one of us were cups of tongsui (a way of referring to sweet dessert soup in Cantonese) that Maggie, one of our community members, cooked. In these bowls of tongsui sat some dark-brown dried longans grown by Vivian on her farm in Chiang Mai – the ingredient that brought us together that afternoon. 
Turning the camera away from herself, Vivian launches into a commentary about the land she's on. For the next one and a half hours, she very graciously played host to this group of armchair visitors.
"This is a very small longan tree. You can still see that there are still some longans. Most of them have been harvested. (It's one of) the smaller (trees)", Vivian pointed out. "This is a wild eggplant, you might recognize this? We also have a lot of bananas around here." As Vivian walked, she pointed out a young mango tree to us. And then a tapioca plant. A short, bushy longan tree. On her cue, we directed our attention to the longan tree up ahead. "That tree over there, that is one of the taller ones." 
Vivian has been working on this land since January. Situated 3 hours away from the Chiang Mai city, she had described it as "kind of like someone's backyard". Hearing that, one can only imagine the typical size of land there, which are often set aside for commercial agriculture. There, land is usually sold as big plots; breaking up these huge swaths of land meant having to sit through the pain of multiple transactions. A no-go. 
Early this year though, an opportunity came along: the 70-year-old man who used to own this modestly-sized plot, where the longan orchard currently sits on, felt that he was no longer able to maintain the land, and thus was keen to let it go. For Vivian's uncle who had been looking at buying a piece of land for some time, this plot was small enough to be manageable, came reasonably priced, and also at a good timing. Having visited Thailand many times, Vivian also saw the land as a potential opportunity for her to realize something that she has been contemplating about: living more sustainably, growing her own food and building her own shelter. What happened next came as little surprise: Vivian and her family took up the offer.
---
Sorry, but this article is for Sauciers only. Enter your access code or get online access to this issue of The Sauce to read the rest of this article.
Contact Us
Drop us an email or DM on Instagram if you would like to give us feedback, support us in any way, or just to connect!
Foodscape Collective
Foodscape Collective is a ground-up community with a mission to co-create a fair and inclusive circular food system for all. We work together to create communities and livelihoods through collaborative and supportive practices.
---
Copyright (C) 2023 - Foodscape Pages. All Rights Reserved