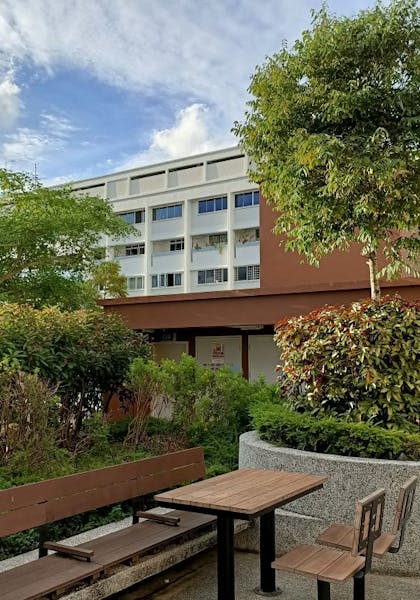 My journey of starting a guerrilla garden – III
Christopher Leow
10 December 2020
---
This is Part III of a series of posts detailing a journey and an experimental process of seeding a guerrilla garden and letting it take shape in our midst. How will this pan out under watchful eyes? Will this be a fruitful pursuit? Follow me as I share my journey and stories from the field where I convert a plot of underutilized green space into an edible garden!(Read Part I here, Part II here).
---
Being a self-professed law-abiding citizen, the sentence which I felt awaited me – to remove all my plants from the ground was a fair one. Being the Town Council, dealing with residents like me who's consistently trying to test the system was no simple task.
We arranged to meet at 2pm at my guerrilla garden. Aden – the gentleman who was manager, and Elizabeth – the person who first 'caught' me guerrilla gardening – was there. She looked almost embarrassed. 
"Chris, we understand your desire and passion to garden." 
I felt some empathy. 
"However, we have to manage the interests of the community. Some residents might feel that your garden is unsafe, comes with potential hazards, or makes the common spaces untidy. Therefore, we kindly request that you remove all your plants from the ground and place them into pots." 
Oh? In my mind, that was a compromise. I could still keep my plants, as long as they were in pots. I immediately thought about testing the system again by putting the plants in bottomless pots – that way they could be grown in the ground in pseudo pots and nobody would ever know the difference. 
"Noted, I will definitely do so… Give me a bit of time." 
I had to remove all the bamboo stakes. That felt like an okay end to this chapter. For the most part, I could still keep a tiny garden; I probably could not feed the community, but could still feed my interest in urban farming.
I was all ready to pack up and end the meeting, when Aden cleared his throat. 
"If we told you there was an alternative site for you to run your farming project, would you be interested?" Aden said, unexpectedly.
I was stumped. "Yes….why not!" 
I was intrigued now, what could it be? Did he want to offer me a space in another existing community garden? 
"It's not too far away from here. Would you like to take a look?"  
We walked past my block, past the carpark, and the bin collection centre to 'Golden Ginger' – the newly established elderly studio apartment built over a formerly empty field. A few years ago, this was the go-to place for soccer folks and parrot training on Sundays. We were escorted up to the rooftop garden on the 7th floor. 
I had no expectations whatsoever at this point. I was already glad to have been able to partially 'keep' my garden. After exiting the lift, we turned left. After another left turn, we arrived at the sight of a garden patch, measuring about 10 by 5 metres, roughly the size of a baby swimming pool.
"This is it."

Overview of the garden space
The first thing that we came face to face with was an overgrown Pandan leaf bush. We stood right in front of what was seemed like a hundred Pandan bushes. All looking happy and lush under the bright midday sun. The air had whiffs of Pandan, which reminded me of the light and fluffy Pandan chiffon cake – one of my favourite local sweet treats. Beside the Pandan was a hedge of lucidly red hibiscus flowers that seemed to be screaming for attention. Next to the hibiscus shrub that was pruned into a block shape, was a patch of lemongrass tucked away in the corner. These were sporadically planted and looked a little out of place. There were a few empty patches of grass interspersed amongst this somewhat-herb garden. The theme of this corner seemed a little lacking in incoherence, although it wasn't necessarily a bad garden— I felt that with a little more love and attention to detail, it could be made so much better.
What is amazing about this garden is that it is part of a broader landscape on this rooftop. Aden said it was an award-winning garden. It had a few sections of interest with bright flowers, such as the bright yellow candle stick flowers that was a centre of attraction. Passionfruit flowers opened up as they climbed over a trellis that sheltered the communal seats below it. It was a really lovely space to be at and it was my go-to space when I needed rest. The garden, too, had an amazing view of the city skyline. It was flanked by other taller flats in the vicinity and one could observe the unique plants that were growing out of people's apartments.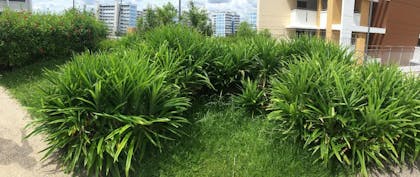 Golden Ginger's rooftop garden spot – Pandan shrubs & sporadic grass patches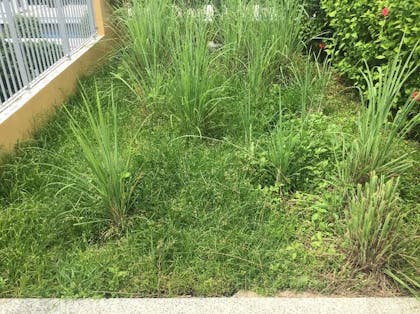 Golden Ginger's rooftop garden spot – Lemongrass shrubs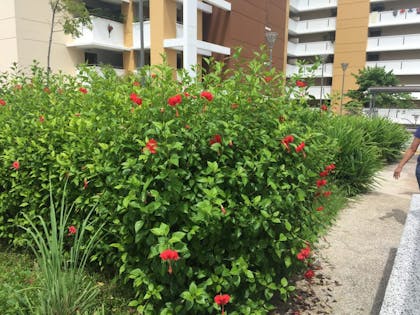 The Hibiscus flowers on Golden Ginger's rooftop
The award winning rooftop garden – one of my favourite spaces in the neighbourhood to unwind
"We have identified this garden patch as a potential place for you to set up your garden. But it is purely an idea of mine, nothing has been proposed to our management yet." 
I really could not believe it. This seemed too good to be true! The risk-reward game seemed to have paid off!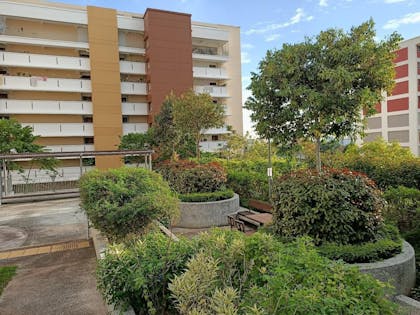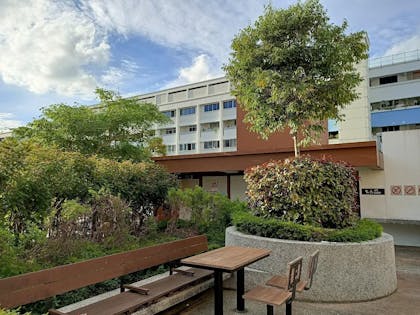 "So then, what can I do to turn this into reality?" I asked earnestly.
"Given your enthusiasm, we had thought of this as an idea — it is only an idea. But in order to take this forward, the rest lies with you. You might want to turn this into a proposal so we can bring this up to our managers for their approval."
Without any hesitation, I gave a resounding yes. 
My heart was racing with excitement. I imagined this garden to be a space where I could turn my dreams into reality — a true-blue community farm! It would be a place where food scraps from surrounding households can be turned into rich and healthy compost, which in turn could feed the microbes in the soil, and support the growth of nutrient-dense crops. The key to the success of the garden would be engaging the community to partake in the nurturing of the garden, as a shared responsibility. I was determined to turn these ideas into reality… But first I had to write that proposal. 
As we walked off from that garden patch, I introduced the duo to some of the edible flowers on that rooftop, such as the butterfly blue pea. Both of them were intrigued that it was edible, and tasty! Whatever tension that we had earlier, had dissipated. It was heart-warming to know that we are now collaborators, with a shared vision of building our Serangoon North community through a new avenue — community gardening.
After I submitted the proposal outlining my plans, I got a reply from the Town Council that they were following up on my case.
And then, silence. For months! 
Other than an interim response 2 months in, I heard nothing. That was when my idealism started to fade. This was definitely not a priority on the Council's agenda currently, and perhaps, never was to begin with. I started to think that it was a delay tactic being played out —  to see that I would soon lose steam in my pursuit, and that this idea and my aspirations would be dropped eventually.
State of affairs of the guerrilla garden
Meanwhile, at my current garden, the variety of plants that were left were a fraction of the original. The small plants left seemed to be struggling in the miniscule pots they were housed in – the spares that I had lying around. They wanted more space, but I didn't know how long they would be there for and so I had no choice but to let them struggle.
However, there were a few surprises. 
For one, I found a lone cucumber plant that had been struggling to find a space to climb as I wasn't supposed to build any trellises. It had found its way up a papaya tree and gave me the sweetest ever cucumber I had tasted.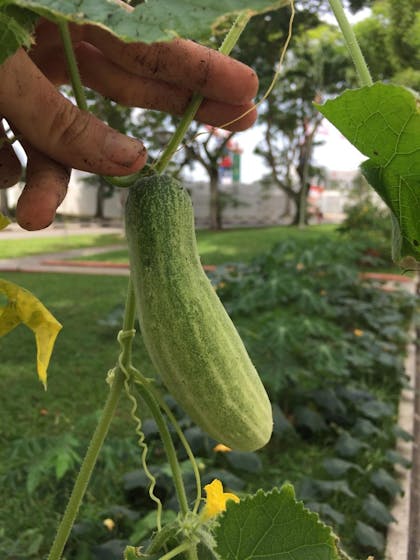 The pumpkin was another surprise — it had outgrown its pot and started sprawling all across the ground, taking over almost half of the grass patch! I had played by the rules, growing in the pots, but this defiance was nature's way of showing who's boss. One of my friends, and fellow gardener, Ching Wei, said that this was the largest pumpkin patch she had ever seen in her entire life! 
The pumpkin patch flowered significantly but in the end, there was only one pumpkin. The night before harvesting, the pumpkin was split open. It appeared to be the deed of a wild animal – maybe a dog or a very strong bird had beat me to it. My only pumpkin after a 3-month wait could not be eaten. It was fated. A lesson from nature about patience.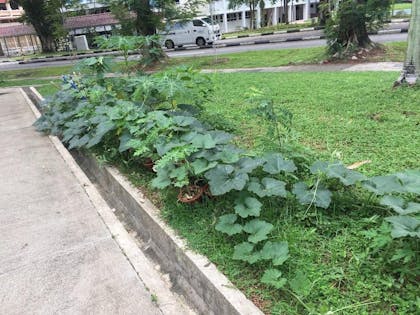 Pumpkin patch begins it's takeover in July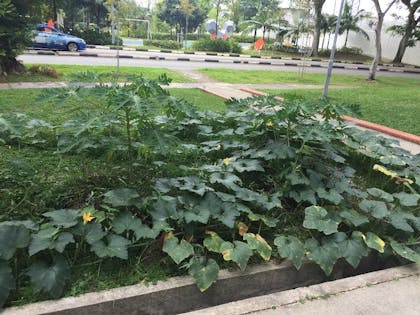 Fist-sized pumpkin from the Guerrilla garden almost ready for harvest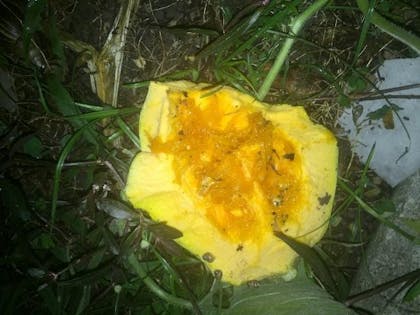 The pumpkin that was almost ready for a harvest!
Other than the pumpkin, the young papaya trees were getting really hardy and strong – in fact some were as tall as me! They started flowering, and eventually, baby papayas birthed from it. At least there was some progress and joy on this garden.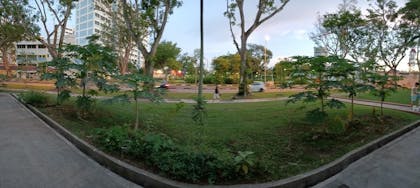 The current state of affairs at the Block 142 grass patch – a papaya plantation!
Many months later, just as I had already anticipated the worst, I received an unexpected call.
"Chris, thanks for your patience. Your proposal has been vetted by our management, and we have some updates." By this time, I expected yet another token update. They were probably going to say that they need more time…
"Our MP for Aljunied-Hougang, Mr Leon Perera, loves your idea and would love to have a chat with you to see how the Town Council can support you and how you can kickstart your project!"
I was back in the game again! 
That weekend, on a sunny Sunday morning, I met with Mr Leon. The deep-voiced gentleman had a calm demeanour. 
"Chris, I have read your proposal and I am very touched by your passion to bring the community together. Please show me the space and let me know how I can support you."
After giving Mr Leon a tour of the garden, I explained how I hope to involve the residents. I shared how it would be a pay-by-volunteer concept: whoever spends time in the garden can share a part of the bounty from the garden. I also imagined having regular pot-luck sessions where we could use some produce from the garden to make some dishes togther that can be shared.
"Chris, I do meet residents regularly, and, if you'd like, I can help you recruit volunteers and participants for the garden!" 
That was a kind gesture, and his network would help me with finding like-minded individuals. "Chris, if there's anything else you need, please let me know how I can support you."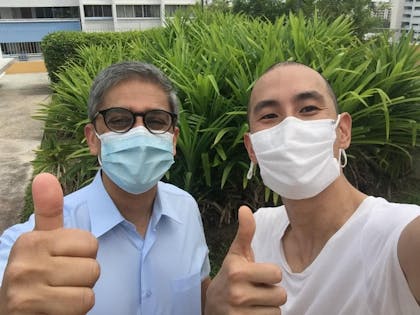 MP Leon giving his stamp of approval
It felt surreal that this was happening. 
In retrospect, I would never have guessed that my attempt at guerrilla gardening would turn out this way. The vision which I had to involve the community was going to be turned into a reality – and I was fortunate to be offered this platform, and an incredible location too.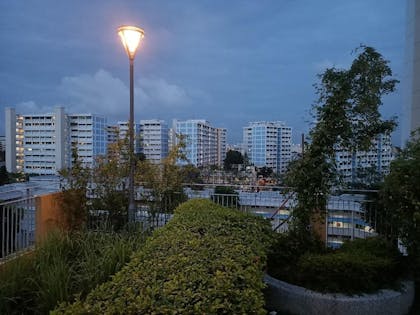 The panoramic view of the garden overlooking the city.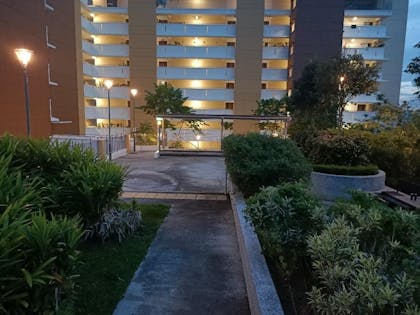 The rest of the garden areas at Golden Ginger's rooftop
It is the end of November. After a patient 8-month wait, I have finally gotten the stamp of approval to start work on the garden. The Town Council invited me to sign the letter of acceptance. 
And the work begins!
Edible Gardening
Community
---
About the author

Christopher Leow
Chris has a deep interest in the entire food chain. He has spent the last decade delving into different aspects from Farm to Table - working as an Urban Farmer, Grocer and Chef, in both urban and rural areas. He is particularly interested in improving the food system by making it more sustainable and equitable. He hopes to share his experiences and thoughts through the Foodscape Collective network and connect with like-minded individuals.
Contact Us
Drop us an email or DM on Instagram if you would like to give us feedback, support us in any way, or just to connect!
Foodscape Collective
Foodscape Collective is a ground-up community with a mission to co-create a fair and inclusive circular food system for all. We work together to create communities and livelihoods through collaborative and supportive practices.
---
Copyright (C) 2023 - Foodscape Pages. All Rights Reserved