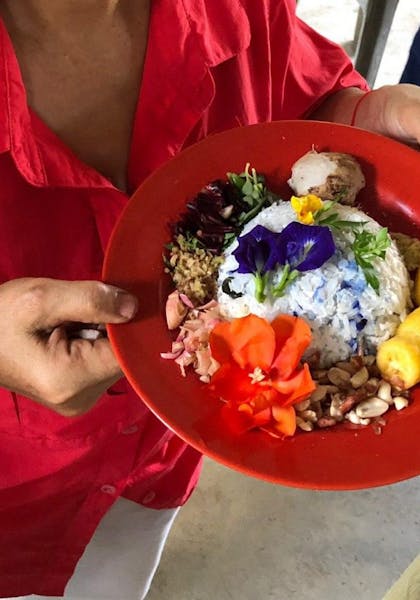 Nasi Ulam and NS on National Day
---
The farm shed is a hive of activity. 
Water sloshes from a tap as watercress washing gets under way. In the next basin, pennywort leaves float like two-dimensional balloons. Patient hands are carefully stripping leaves from delicate purslane sprigs. At a wooden table on a chopping board, stiff kaffir lime leaves and lemongrass stalks are being magic'd into fine fragrant strands, while the ulam rajah, a herb hailed king of salads for its complex herbaceous flavour, waits its turn.
For colour, a pristine millennium-pink torch ginger flower is about to be chopped into confetti. Plump oranges of rose cactus flowers sit pretty on a red plate, next to the velvety blue ombre shades on the blue pea petals. Waxy crowns of roselles are broken into little pieces of ox-blood red jewels, while pickled fresh bananas glow like nuggets of new gold.
I weave in and out of the group of busy preppers, camera at the ready, hovering, ducking, panning, shooting. Trying not to be in the way, but wanting to get right in there to capture every herb that is being fussed and prepped for a dish called nasi ulam.
I had not known of its existence until a fortnight ago, when someone mentioned the name in passing. Nasi ulam literally means rice salad. Its very simplicity was immediately intriguing — such a dish demanded the freshest of ingredients at the height of their flavour. Right there and then, I was determined to cook it and eat it. 
A few days after first hearing about it, in happy synchronicity, Vivian asked if I would be interested in marking National Day by doing a Foodscape Collective version of "NS" at an organic farm in Kranji, and celebrate with a lunch of nasi ulam. Would I? Yes, please!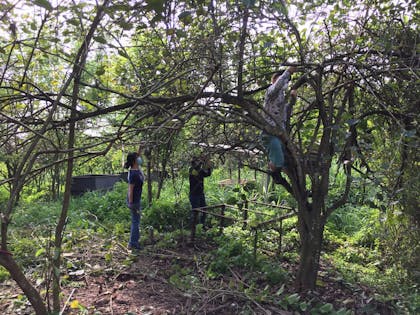 For those unfamiliar with the term NS,  it stands for National Service — a military conscription that is a rite of passage for young men in Singapore. On National Day, it felt right to evoke the spirit of service for this island we call home. So NS it is, but with a twist — we shall serve our country by taking care of its nature and farm. 
The morning of 9 August saw 15 individuals meet in groups of five (this is the time of Covid-19) to perform our "National/Nature Service". Almost everyone was experienced in regenerative farming practices; it was good to be amongst kindred spirits. 
As fighter jets roared over Singapore, secateurs and pruning saws wereare being deployed on the ground. We painstakingly cut back a copse of overgrown mulberry trees to encourage leaf growth, and used the prunings to make a woody mulch under the trees. Crouching on the sloping banks of a pond thick with water hyacinth, we repeatedly tossed a makeshift implement (which can only be best described as a handleless-fork-on-rope) into its midst, and then pulling on the rope to drag in swathes of the dark green aquatic jungle. Water hyacinth is rich in biomass — perfect for making composts. 
Then it was time. Swapping tools for baskets, we headed off to forage for the herbs and greens that will go into the nasi ulam. Then it's back in the farm shed to put it all together. The kitchen is abuzz with the cheerful well-being that comes from a morning of manual work, and the happy anticipation of a delicious lunch in good company. 
I eye the humongous rice cooker sitting on the shelf, and resist the temptation to peek. Earlier, someone had sprinkled freshly grated coconut over the cooked rice, and it smelt heavenly. It's not the fried coconut (kerisik in Malay) that usually accompanies nasi ulam; that would have been too time-consuming to prepare, but improvisation is the name of the game with nasi ulam. Fresh coconut works just as well, I can't wait to dig in. 
Finally, the prepping comes to an end. Every bit of herb, flower and greens is laid out on the table, and a stack of red melamine plates appears next to the rice cooker. Then the lid is lifted, and a waft of sweet fragrance fills the air. The nasi rises from the depths of the rice cooker on a paddle, tender and fluffy, looking deceptively plain and delectably promising. As everyone helps with the dishing and relaying of plates to waiting hands, I hover over the rice cooker and survey the landscape inside.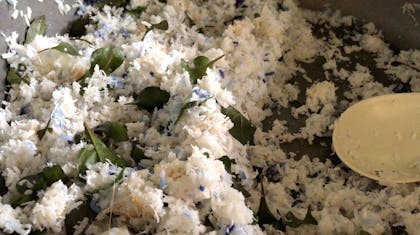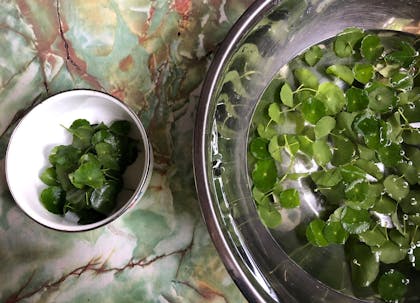 The rice is a spread of hills and valleys, snow-blanketed in coconut, streaked with hints of cobalt blue from the blue pea flowers, and dotted with khaki green from the lemongrass. There is a restrained zen-like beauty in this white-on-white scenery. As the paddle digs and scoops, the landscape changes rapidly. I want to gaze on for longer, but like a Zen fable, the diminishing rice is teaching the impermanence of things, and a reminder to enjoy the moment. 
And so we eat! 
Nasi ulam is a traditional dish of Malay origin that also appears in Peranakan and Indonesian cuisines. It is famous, even notorious, for being tedious and labour-intensive to prepare; requiring fine knife skills and patience for delicate slicing, dicing and cooking. And then, just before serving, there is the crucial coming together of the rice with the plethora of herbs and other ingredients — an alchemical process in which a melange of flavours and textures are balanced and finessed according to the tastebuds and experience of the cook.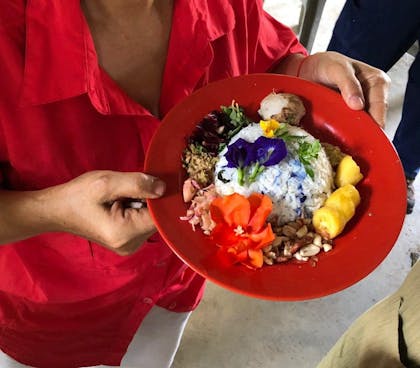 Community
Culture
Farming
Celebration
---
About the author
Contact Us
Drop us an email or DM on Instagram if you would like to give us feedback, support us in any way, or just to connect!
Foodscape Collective
Foodscape Collective is a ground-up community with a mission to co-create a fair and inclusive circular food system for all. We work together to create communities and livelihoods through collaborative and supportive practices.
---
Copyright (C) 2023 - Foodscape Pages. All Rights Reserved