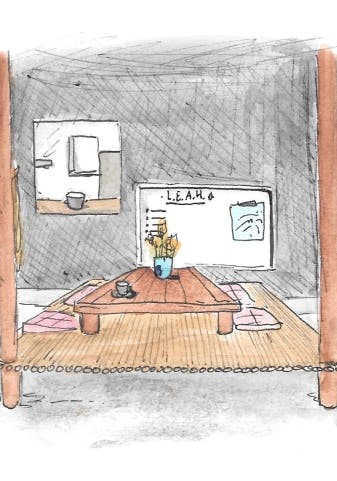 Soil Healing: An Inner and Outer Journey
Vivian Lee, Lotte Verstappen
11 November 2020
---
This article is part of our theme-based journazine titled "The Sauce". The inaugural issue focuses on Soil, as we believe that soil is the foundation of all things to come. Print and digital copies of the full issue are available here. Check it out for more stories from the community and how Foodscape Collective's projects have come about.
---
"The ultimate goal of farming is not the growing of crops, but the cultivation and perfection of human beings." 
— Masunobu Fukuoka
Weeding by hand is an endless task in a tropical garden where herbicides are not used and burning is not carried out to clear the land. It forces us to slow down. It is the first task that participants undertake when they come to the Garden of L.E.A.H. — to experience the simple life of growing food, building a mud shelter, and living together in a mindful way.
As the sun and temperature rise in the quiet morning, some questions guide us to be attentive as we pull weeds from the soil: How often do we notice the call of the birds? Are we too absorbed in our thoughts to be aware? How present are we in each moment? How do we feel as we continue with this physical task while the heat increases and our clothes get wet with perspiration? 
After another day has passed and we adjust to the pace, one might also start to pay attention to the imprints of time: How patient and resilient are we in the face of these persistent weeds growing in the garden? What are the thoughts or habit patterns we want to weed out from our lives? How might we align our inner values and outer actions in our daily choices? 
---
Sorry, but this article is for Sauciers only. Enter your access code or get online access to this issue of The Sauce to read the rest of this article.
Contact Us
Drop us an email or DM on Instagram if you would like to give us feedback, support us in any way, or just to connect!
Foodscape Collective
Foodscape Collective is a ground-up community with a mission to co-create a fair and inclusive circular food system for all. We work together to create communities and livelihoods through collaborative and supportive practices.
---
Copyright (C) 2023 - Foodscape Pages. All Rights Reserved