Our Community
Foodscape Pages is community driven platform for publications and gatherings that inspire meaningful conversations and new perspectives around the ecology and culture of food. Through the lens and medium of food, we hold space for personal stories of lived experiences and for direct connections with practitioners on the ground.
Emerging in the time of transition, we embrace writings and expressions of all forms, be it short videos, photography, long-form articles and more, to gather the seemingly scattered voices of the citizens actively engaged in finding alternative solutions from the ground up. By realising the power of the community to confront and face the current global climate crisis, we are able to co-create a world that is built on love, trust, peace and genuine relations.
As we highlight the interconnection between selves, communities, societies and Mother Earth, we aspire to support a shift in mindset towards a regenerative and sustainable way of life that thrives on biodiversity and inclusivity.
Foodscape Pages is an editorially independent initiative of Foodscape Collective.
---
Our team
Megan Sin
Editor
I am (Megan Sin is) — currently finding ground. 
With a background in theatre, I've been exploring combining different artforms; turning poetry into movement-based performances, and how typography and performance score coexists with one another. Currently, I am also part of the editorial team of Foodscape Pages. With opportunities to work closely with the Earth and our foodscape, I apply my lessons from the Earth to my research in body politics. To craft an artform which embodies the connection between the Earth and our bodies; as we value diversity in Nature that brings forth life, we value diversity of humans too.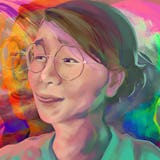 Tan Jun Qi
Painting Pixels and Writing Code
Together with a small voluntary team of experience designers and software developers from my ex-company, I have been anchoring the redesign of the Foodscape Pages website, through illustrations and code, as the core team works to bring the next journazine issue to fruition and as we try to birth new, perhaps tech-enabled, imaginations on how to present much needed discourse around food culture and food systems in the region.
I am an extremely unsociable pro-social, and non-tech endorsing techie, whose interests seem to straddle a confusing (often to myself) cacophony of multitudes, which somehow also seem to converge on that eternal aporia of how I am (the world is) to be in the world (me). I am currently circling aporia by starting my dive into regenerative, soil-food-web-based gardening(?)/farming(?)/restoration(?)/living(?), trying to ground at least some of my actions in (hopefully ethical) community work, and thinking too much.
I enjoy dry wit, silly banter, deeply irreverent humor, and friendly insults, perhaps more than smiley faces :)). Please bitch about anything you don't like about the new website to me. I'm about as full of shit as I am contradictions, and in my past life was a senior software developer and tech lead at an international software consultancy, before deciding that society probably needs less techno-utopian, techno-pragmatic, or just plain tech-bedazzled types, and more idealistic bums.
I dream of the day that the volume of edible plants I grow regeneratively/mass of soil biology I cultivate/tonnes of CO2 I manage to sequester/productive ideas I write about will far outweigh my trash.
Contributors

Aditi Punj Sood

Andrew Lim

Becher Ku
Writer
An Educator, Grower, Seed and Soil enthusiast
Aditi's journey in Anthropology led to a deep exploration of food and agriculture. She has worked on farms since 2012, spanning the US, India and now Singapore. She's grown food in the ground and greenhouses, on rooftops and verticals racks. A big believer of food and farming as equalizers, she's been teaching and designing engagement programs on environmental education. Most recently, she's writing curriculum for the Soil Regeneration Project, with the intention of directing conversations from silos to soils and social-soil communities.
Writer
Although Andrew's business card says he is a 'research assistant', he has recently spent significantly more time researching recipes and messing up the kitchen, cooking for unfortunate souls kind enough to taste and tolerate his culinary misadventures. Having studied psychology, sociology and a bit of social work in his university days, he is as interested in interdisciplinary perspectives to mental health, as he is in understanding how food is more than just fuel — but expresses something unarguably authentic about the way we live and feel, whether as individuals or as a society.

Chingwei Chen

Christiane Büssgen

Christine Chua
Writer
A soil and compost nerd certified in Permaculture Design, and a life-long student of nature, ecology and the all-consumingly vast and fascinating subject of food for humans and wildlife. Happiest deep in the countryside where she lived off-grid and grew 60% of her own vegetables and herbs; also happy to be in the city where I believe permaculture can be unleashed to create tiny urban farms, food forests and meadows that can coexist with the concrete jungle, and be productive and commercially viable. Ching Wei slowly orbited into the Foodscape Collective Ecosystem after discovering Cuifen and Chun Yeow promoting compost practices in a mall two years ago. Currently co-leading Project Black Gold, a community food scrap composting pilot project.
Writer
Christiane Büssgen is a designer based in Brooklyn, NY, working as a manager for Property, a high end furniture showroom in Tribeca. Originally from Germany she has lived in several countries before moving to NYC in 2016. She is currently working on her first publication The Silver Table Book with Julien Baiamonte, a graphic designer based in Rotterdam – a collaboration which started during the pandemic.
Writer
Christine Chua (born 2000) is an arts and gardening enthusiast. Her practice pays homage to the earth, recording signs of presence and recognising humans as inhabitants of this contemporary landscape. She hopes to celebrate human culture and the materiality of earth, imbuing natural processes and familiar sites with a whimsical nature. In her spare time, she enjoys gardening, listening to music and foraging for interesting materials.

Christopher Leow

Denise Eng

Derrick Lim
Chris has a deep interest in the entire food chain. He has spent the last decade delving into different aspects from Farm to Table - working as an Urban Farmer, Grocer and Chef, in both urban and rural areas. He is particularly interested in improving the food system by making it more sustainable and equitable. He hopes to share his experiences and thoughts through the Foodscape Collective network and connect with like-minded individuals.
Writer & Layout Designer
Denise is a freelance illustrator by trade, and is a person of many hobbies. She likes getting involved in interesting community initiatives (such as Foodscape Pages). When Denise is not drawing/designing, she enjoys crocheting, writing, and tries her best not to kill the plants in her garden.
Writer
Derrick Lim is born and bred in Singapore, starving Ethiopian children woke Derrick's wondering heart and led to his involvement in different aspects of civil society. At 30, Derrick sojourned further to live and work with people of various abilities in intentional communities from New Zealand to South Africa, U.K. to Ireland. There, he experienced different roles – from caring for a child, to running a household, being a shopkeeper to a full-time gardener. After 15 years, he's settling back into Singapore with his spouse, hoping to contribute in her becoming. Together, they share the realisation that each person can improve self and society; with each step, we are all being moved along.

Esther Tham

Foodscape Pages

Justin Goh
Experience Designer (XD), Discovery Workshop Facillitator
Esther was part of the ThoughtWorks team that helped facilitate the Discovery workshops held over two weekends for exploring how to approach the redesign of Foodscape Pages.
Foodscape Pages is community-driven platform for publications and gatherings that inspire meaningful conversations and new perspectives around the ecology and culture of food. With this intention, we hold space to co-create ways of expressing and being by expanding our collective vocabulary for ecoliteracy.
Developer
Justin is a Chemical Engineer turned Software Dev

Lucas Hsu

Madhu Giri

Manu Dasari
Writer
Lucas Hsu is a third year Environmental Studies (ES) major at Yale-NUS college. He is majoring in ES because he finds the connection between culture and the environment to be very interesting. He believes this knowledge will shed light on why we make certain decisions - and help us retell stories in ways that will enable positive change. As an aspiring Geography teacher, he also hopes to motivate his students to engage in issues of societal concern and reflect on the ethical considerations of decision making.
Writer and Illustrator
Madhu is full of curiosity about life. She loves being outside with nature and observing its beauty in flowers, trees, birds and other creatures. She also loves exploring movement, mindfulness and wellness practices, and finds the natural environment a wonderful reminder to slow down and feel the present moment.

Deeply fond of fresh, wholesome foods, she enjoys baking treats to share and meals prepared with love. She also recently re-discovered her passion for art and drawing and is inspired to make more time to create. It's the easily overlooked little everyday things that bring her the most joy.

Her travels and experiences have led her to form meaningful bonds with people from different cultures and places such as the USA, Canada, Mexico, Spain, Italy, Philippines and Bali. Recently, she has been learning more about gardening in Singapore and is thrilled to discover different plants and flowers around this green city.
Discovery Workshop Facillitator, Tester
Manu serves ThoughtWorks as an experienced executive with a commitment to creating a culture of excellence, where empowered teams succeed. She has over 15 years' experience leading all phases of diverse technology and solving complex business challenges while putting customers first. She is an Agile coach and has a deep appreciation of using technology to build better businesses. She helped with facillating and documented the Discovery workshops for the redesign of Foodscape Pages and testing the new site as it was being built.

Ng Huiying

Ong Chun Yeow

Pui Cuifen
Writer
Huiying Ng likes spending time in nature, with critters, and on observing (and acting in) human social life. She is a geographer with a background in psychological research, with a love for synthesis, ideation and exploration. She writes and develops action research methodologies relevant to agroecological futures, and enjoys creating and working with people across disciplines. She is an initiator of the Foodscape Collective, and TANAH, a nature-food duo, and a member of soft/WALL/studs. From late 2020 she will continue her research to consider agroecology in Southeast Asia and its capacity to respond to the environmental aspects of infrastructural projects in the region. You can also find her on cargocollective.com/huiyingng
Writer
Ong Chun Yeow is an urban farmer who grows edible produce along the corridor and on a rooftop garden. He works in the public sector as a professional specialising in cultural heritage technology. As a nature lover turned farmer turned environmental advocate, Chun Yeow has been involved in the green community in Singapore for much of the past decade.
Writer
Sustainability taught Pui Cuifen that sustainable living is more than protecting nature.It is how we choose to live, how we care for ourselves, and the people around us. A founding member of the collective, Cuifen is actively involved notably in areas of organisational development, education, and community. She is in transition, having left her day job as an environmental scientist / data specialist to discover what is meaningful. She is passionate in connecting with people and nature, and giving voice to the causes she believes in.

Sammie Ng

Sit Weng San

Tan Hang Chong
Writer
Sammie likes to learn about the cities she lives in - through reading, observing, discussing and writing. She is particularly interested in thinking of food in cities as systems of relations through the lens of justice, and how land, culture and commodification are implicated as people try to grow food in cities. Having started edible gardening when she entered university four years ago, her success in actually growing food has been rather limited. However, she has found great abundance in the form of friendships, ideas and care through the projects and communities she has gotten to know or be a part of. She also considers edible gardening as one way to find and recognise herself back in nature. She is currently based in Hong Kong.
Writer
Tan Hang Chong has been an avid naturalist and outdoor enthusiast since his school days as a Scout for ten years. His interest in biodiversity conservation and environmental sustainability was deepened by his membership with the Nature Society (Singapore), volunteerism with environmental civil society organisations and overseas community service expeditions. As an environmental educator, Hang Chong is passionate about sharing how we can live more sustainably and more mindfully about the impacts of our daily choices and actions.
He has an interest in environmental justice, food inequalities and the links between sustainable and ethical food practices to human and planetary health.

Tang Hung Bun

Tarra Tan

Toh Han Jing
Writer
Tang Hung Bun has been advocating French government's 4/1000 Initiative that promotes regenerative agricultural practices to increase soil organic carbon in order to reverse climate change. Mr. Tang has been practising natural farming for over 6 years in various places in Singapore. He has visited many farms of different types (organic, natural and conventional) and sizes in Taiwan and Hong Kong and has learned from their strengths and weaknesses. He hopes to establish a successful small natural farm in Singapore to influence people to join the global movement of responsible, regenerative farming. Mr. Tang advocates that soil can save us from climate crisis, but we need to save it first. Most of Singapore's soils have been or are being destroyed. He hopes to see more people take action in saving Singapore's soils.
Writer
Han Jing is a living being that grows, cooks and compost food along her HDB corridor. She grew up frolicking in her grandma's garden with sun-kissed skin and dirt in her nails.  She started her composting and growing journey along her HDB corridor 6 years ago after she learnt about the terrors of food waste when she was studying.
As an educator at heart, Han Jing believes in teaching and guiding everyone, young and old, to grow food with kindness and intention. She is an Educator at Foodscape and shares her green journey on Instagram at @littlegreenchef

Woon Tien Wei

Wu Xudong

Young Wei Ping
Woon Tien Wei is an artist/curator based in Singapore. His work focuses on cultural policies, collectivity in art, social movements, community engagement, land contestation and urban legends. In his practice, he works with independent cultural and social space, Post-Museum. In addition to Post-Museum's events and projects, they also curate, research and collaborate with a network of social actors and cultural workers. With Post-Museum, Woon worked on Bukit Brown Index (2014-), an ongoing project which indexes the land contestation case of Bukit Brown Cemetery. He lectures part-time at Lasalle College of the Arts in the Faculty of Fine Arts. Woon received his Doctorate in Creative Art in the Arts from Curtin University of Technology, Perth.

Yuen Kei Lam

art naming 奇能

lost.kucing_
Writer
Yuen Kei Lam is a nature-lover, morning person who is currently learning to code with R
Writer
art naming 奇能 begins with semi autobiographical intimate performance works the personal made public political often times participatory and interprets them into other media such as installation or video to deal with and transform the live event documentation problem and always from the bodily repeating gestures like catching tofu thrown, picking things up with my foot or holding isolated still when moving on an empty rooftop in a framed video then concerned with the tension between the temporal and the lasting the intangible and the material time a major theme but more importantly how we deal with its slippage and the fact that this existence will end
Writer
lost.kucing_ is a cat with no and many homes. With a jade-and-white rabbit and two black-and-white dogs, she lives (though always temporal) on a little street aptly named Old Freak Street. They wait patiently to reunite with the rest of the furry family, so that they may fly back to the moon all together, and finally have the welcome-home cheese-party that they have been impatiently awaiting.
Contact Us
Drop us an email or DM on Instagram if you would like to give us feedback, support us in any way, or just to connect!
Foodscape Collective
Foodscape Collective is a ground-up community with a mission to co-create a fair and inclusive circular food system for all. We work together to create communities and livelihoods through collaborative and supportive practices.
---
Copyright (C) 2021 - Foodscape Pages. All Rights Reserved