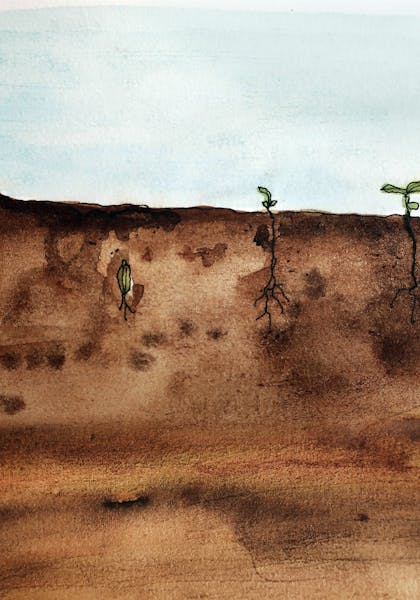 Interview with Debbie Han & Edmund Gan of Co-Create Nature
Foodscape Pages
11 November 2020
---
This article is part of our theme-based journazine titled "The Sauce". The inaugural issue focuses on Soil, as we believe that soil is the foundation of all things to come. Print and digital copies of the full issue are available here. Check it out for more stories from the community and how Foodscape Collective's projects have come about.
---
A RELATIONSHIP WITH SOIL CULTIVATED OVER TIME
Most city folks do not have a strong relationship with soil. And soil takes time to grow, so it takes patience to really see the efforts put into cultivating soil come to fruition. Can you share a bit about your journey with permaculture and agronomy? When did you first begin working with soil? How has the experience been and what inspires you? 
Debbie:
My life can be defined as before-soil and after-soil (Hahaha!). I was the typical weekend lawn mower of my garden before I took an interest in prepping for the 'end of the world' as we know it. Growing my own food was one of the preps I did. I was seduced into the soil food web, yah, 'seduced', when I first started growing tomatoes. Tomatoes are one of the most demanding crops to grow in our climate and only good healthy soil can produce tasty tomatoes.  When fussy eaters, like little kids, tell me the tomatoes I grow are the sweetest they have tasted, that was really awesome! That inspired me to go deeper by building soil, primarily by composting and undertaking permaculture practices which felt like homecoming for me. The ethics of permaculture contain wisdom, in terms of who I farm for and for what purposes.
Edmund:
I started connecting with soil in 2007, around the same time as when we first started the compost manufacturing firm. Compost was so new in the industry back then and there was little awareness about it. Information was limited and we had to experiment with different stages of compost, applying them to different kinds of soil in Singapore. 
The variables in the experiments triggered my curiosity for soil life, plant health and microbial activities; these were so intriguing. Back then, there were only a few companies in the recycling industry and I was lucky to meet some like-minded souls which led me to learn about enzymatic solutions. From there, my perspective and concept of soil changed further. I learnt that fermentation, yeast, microbes and minerals are some elements which can amend the soil structure. By then, it seemed to me that the study of soil is endless and I was propelled to search further for answers beyond the avalanche of information and challenges. Thereafter, I was recommended by peers in the industry to pursue courses in Agriculture, Horticulture and Agronomy, mentored by experts in different fields. 
What inspires me is that Nature, in its abundance, holds many unknowns, waiting to be explored and discovered. The ecosystem that exists around us evolved in a different era and needs to be understood. Execution with good practices and solving the unknown limiting factors, challenges, empowering and sharing of knowledge are the drivers that fill me with passion. 
---
Sorry, but this article is for Sauciers only. Enter your access code or get online access to this issue of The Sauce to read the rest of this article.
Contact Us
Drop us an email or DM on Instagram if you would like to give us feedback, support us in any way, or just to connect!
Foodscape Collective
Foodscape Collective is a ground-up community with a mission to co-create a fair and inclusive circular food system for all. We work together to create communities and livelihoods through collaborative and supportive practices.
---
Copyright (C) 2023 - Foodscape Pages. All Rights Reserved