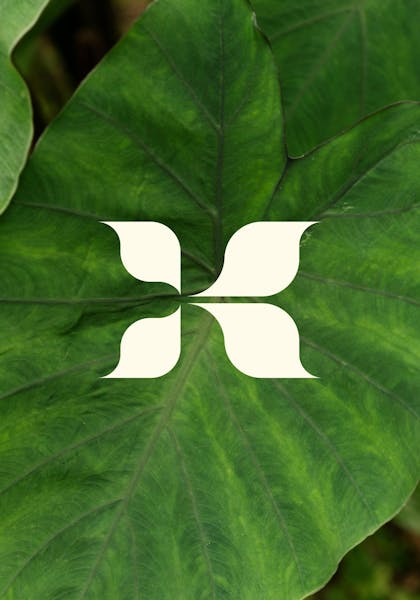 Seeds and Community Empowerment
Madhu Giri
18 November 2021
---
This article is part of the second issue of "The Sauce - on food, community and inspirations", a theme-based journazine, with SEEDS as the theme for this second issue. The inaugural issue on SOIL has a print and online edition available here.
---
This article is written by Madhu Giri in participation of Pages Community Writing Workshop for the Seeds issue, based on an interview by Chloe Chotrani on 7 June 2021, with Karla Delgado from Kai Farms, Silang and El Nido, Philippines. Photos by Kai Farms, illustrations by Madhu Giri. Check out where Karla and Kai Farms are located on this map, along with other practitioners, gardens, farms and seed-saving spaces!
Technical terms in this article are linked to a glossary. If there are terms and phrasing you would like to add to the glossary, please let us know here.
---
Karla Delgado is one of the founders of Kai Farms in the Philippines. It is located in Silang, Cavite - one and a half hours south of Manila by car. Karla and her family have been stewards of the land since her father established the first plot. It kept expanding over the years and now spans a hefty 25 hectares of mostly forest (the size of close to 600 basketball courts!).
Kai Farms is much more than a space for planting and growing. In 2014, Karla and her founding partner Amena Bal began by applying the principles of permaculture to a plot of land that was previously an organic farm in order to make it regenerative. They recognise the importance of a healthy and fertile base and spent the first year healing the soil. Their vision is to have a green and protected forest that allows for carbon sequestration.
Karla and her team strongly believe in the healing power of nature's bounties and the wisdom of living in harmony with Mother Earth. Hence, Kai Farms includes a food forest and healing garden with medicinal plants. Another important part of their work is teaching seed saving techniques to communities and anyone who is interested. 
In 2020, another site of Kai Farms was established in El Nido, Palawan - the country's archipelagic and westernmost province located almost 600 kilometres away from Manila.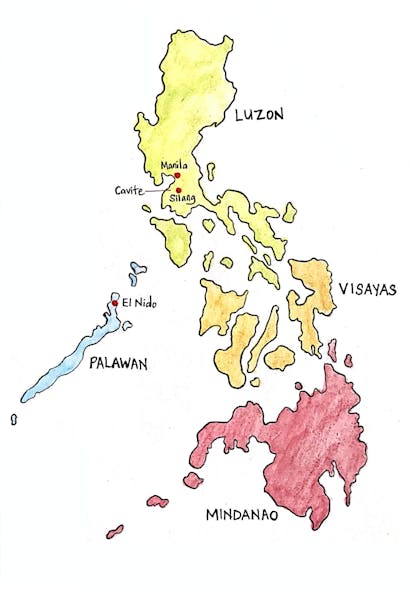 ---
Seed saving: "Food today, food tomorrow"
Just a few decades ago, farmers in the Philippines faced penalties for sharing and saving seeds. This led to their dependence on transnational companies for privatised seeds which usually had chemical inputs. Many farmers were thus denied their right to have agency over their land and natural resources. 
As part of their efforts to restore food sovereignty, Kai Farms encourages the saving and sharing of natural and non-GMO seeds. This creates a sustainable and ecologically regenerative cycle that allows farmers and growers to build food security in their communities.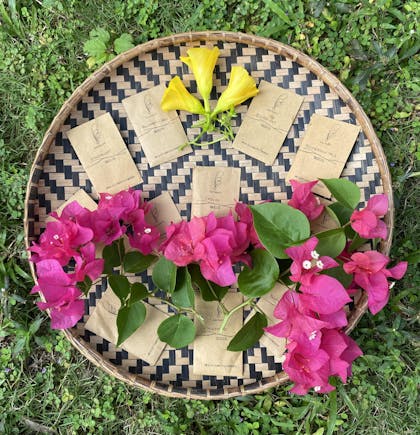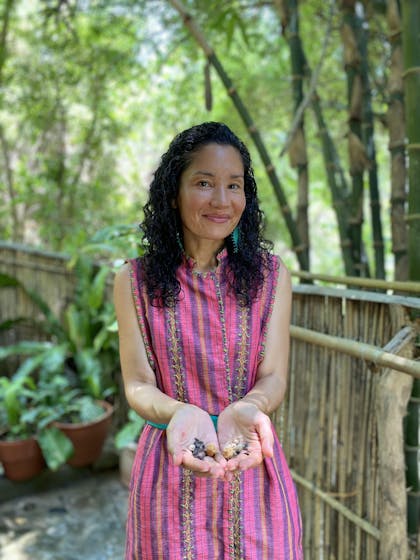 Kai Farms empowers food sovereignty and seed sovereignty by teaching Seed School. Kai Farms seeds are OPV (meaning natural), non-GMO, non-hybrid, heirlooom and 100% chemical-free. (Caption by Karla, pictured on the right holding a variation of seeds from her farm.)
---
A vision for an empowered community
Karla shares that in recent months, there has been a "Community Pantries" movement in the Philippines to address the issue of hunger, heightened by the pandemic. The pantries are spaces for people to take what they need and share what they have. In El Nido, people can take home fruit and vegetable seedlings from Kai Farms' food garden and receive support on how to set up a food source in their backyards.
Karla sees education as a powerful tool to empower communities and make a wider, lasting impact. Bringing her knowledge on seed saving to public schools and cultivating a love for Gaia in children is something close to her heart. 
There is a playful lightheartedness in Karla's approach to teaching. Describing her idea of seed school, she says, "It's not going to be academic and serious, but joyful and creative. Song and dance, math in the garden, counting seeds - this is what we are already starting in Palawan. We are doing this for the future - their future. It's important to start planting the seeds of earth care in kids when they are young."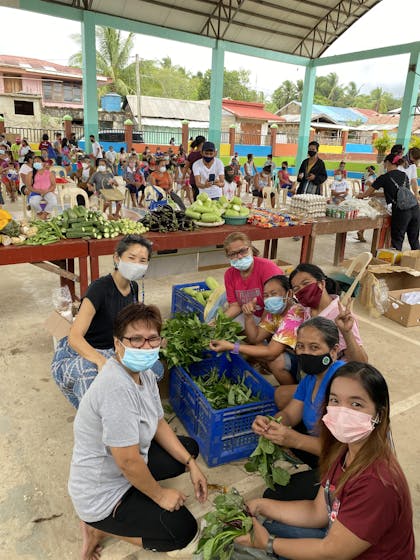 Bundling vegetables in the Community Pantry of New Ibahay, a women-led community in El Nido, Palawan that is 100% solar-powered. Included in the photo are Barangay Captain Clarence Legaspi, Barangay Treasurer Lenie Fabul and SK (Youth) Head Kris Villarin. With Kai Farms in Palawan, Karla is working on community seed libraries, edible gardens and food forests, and a community center for women's empowerment and teaching earth care to children. (Caption by Karla)
---
Climate change in Palawan
Karla speaks from experience when she talks about the importance of caring for the environment. She spent her first year in Palawan living in sustainable bamboo huts in Tao, a permaculture farm right by the sea. Swimming in the waters off the island every day, she was able to personally observe life underwater, and changes to the sea.
The ferocity of the storms in Palawan is something Karla recalls vividly. "I would sometimes hear the waves at night and wonder - are we going to be washed away? At a certain time of year there is almost a violence to the energy in the water. And you can feel that. I would sit up at night and look out."  It hit her then how vulnerable the Philippines is to climate change. Made up of well over 7,000 islands, it is one of the top five countries most affected by the climate crisis. 
As a native of Baguio, a city in the mountainous Cordillera Region of the Philippines, experiencing the rainy season by the sea for the first time strengthened Karla's belief in the importance of building resilient communities that are invested in food security. She shares that Palawan is a very special location as it is the only island in the Philippines without active volcanoes and fault lines. This makes typhoons in the region much gentler and gives the land a natural resiliency which supports her work in permaculture and growing.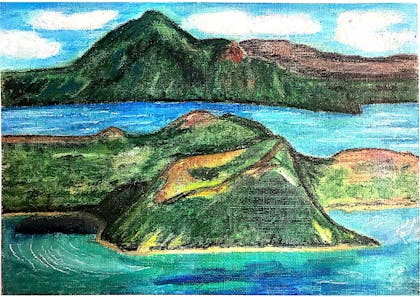 Taal Volcano, pastel painting on cotton paper by Madhu Giri
---
Eruption of Taal Volcano: A wake up call
When the Taal Volcano began to erupt at the beginning of 2020, winds and rains carried a thick and wet ashfall towards the Kai Farms in Cavite, forming a concrete-like covering on the roofs of houses. "Companies were actually picking up this material to make concrete with!" Karla remembers in awe. 
She regards the eruption as a sign to her and her partner Amena Bal to reassess their plans and move even closer to nature. When COVID-19 hit and the lockdown was declared shortly after, she happened to be in Palawan, while Amena had moved back to her native India. With a feeling that she was meant to stay on in El Nido, she began planting the seeds of community and her vision there. Meanwhile, Amena has been living in TransIndus, an award-winning eco-village outside of Bangalore and, as Karla mentions fondly, is doing beautiful work there.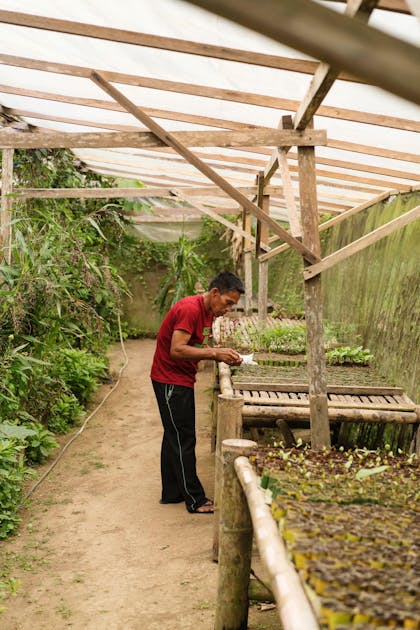 Kai Farms Earth Leader Ronaldo Alarca planting seeds in the Garden Nursery of Kai Farms in Silang, Cavite. (Photo by Sonny Thakur; Caption by Karla)
---
Saving heirloom seeds
Karla and her daughter love foraging for seeds together and saving the pods of trees, edible flowers and medicinal plants. "I love conversations about seeds," she says. Her passion is evident in the way she describes the types of plants found on Kai Farms and techniques for seed saving.
There is the jackfruit - an important part of plant-based cuisine and nutrition; kurumbot (passiflora foetida) - a species of passion vine which Karla describes as tasting like passionfruit, mango and pineapple rolled into one.; akapulko (cassia alata) -  a medicinal shrub with beautiful yellow flowers which she will plant in her healing garden; and the beautiful Palawan cherry blossom (cassia nodosa), known locally as balayong, which has a very big pod. She cites Filipino native tree expert, Imelda Sarmiento, when pointing out that, contrary to what its name suggests, the Palawan cherry blossom is non-native.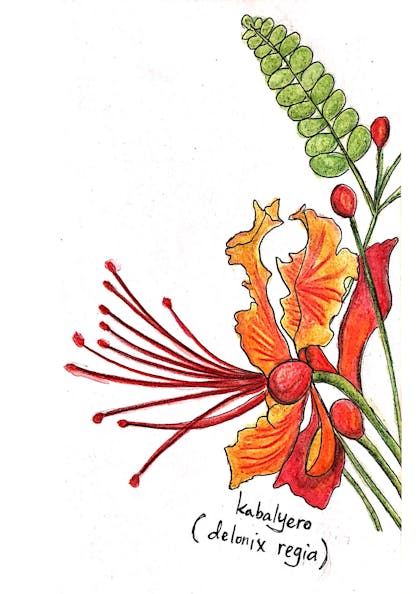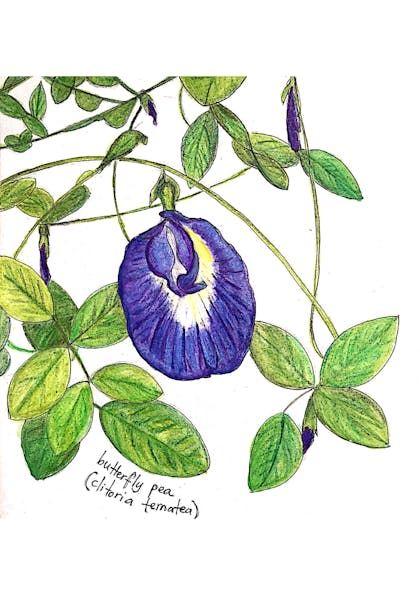 left: kabalyero (delonix regia) - a species of flame tree with an edible flower whose pods she found in yellow, orange and pink.
right: the iconic butterfly pea (clitoria ternatea) - a flowering vine which is easy to grow and can be found all over the farm.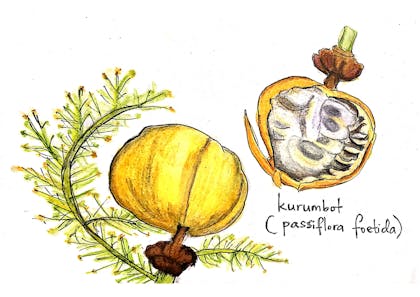 kurumbot (passiflora foetida) - a species of passion vine which Karla describes as tasting like passionfruit, mango and pineapple rolled into one.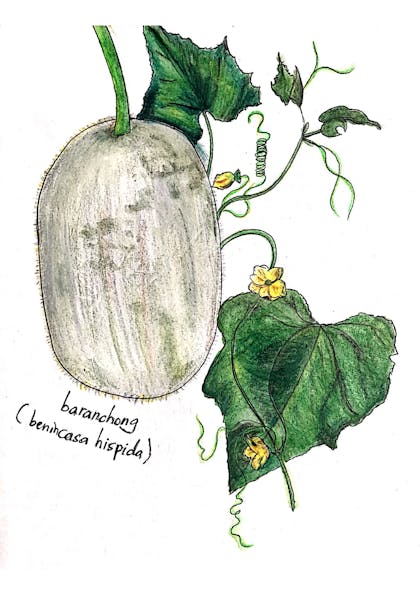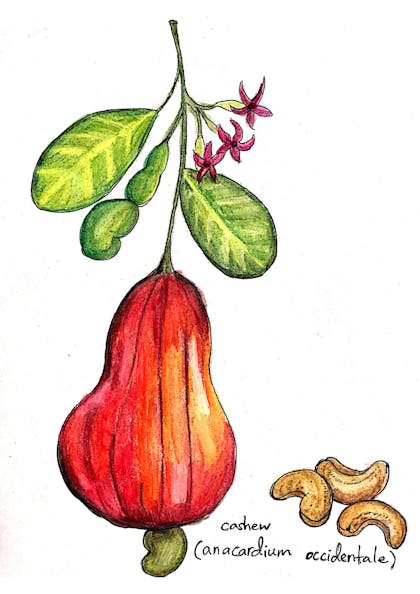 left: baranchong (benincasa hispida) - a large type of gourd with a whitish colour whose seeds she saves when eating the vegetable.
right: cashew (anacardium occidentale)
---
Karla also shares that cashews grow really well in Palawan. When it is cashew season, the fruit literally falls to the ground with a huge seed in it which is harvested and planted in the food forest's nursery. Besides the nut being a good source of healthy fat, Karla has been using the fruit to brew cashew vinegar in her home kitchen. "It is a really special vinegar that has a lot of character and taste," she declares. Ever full of ideas, she adds, "For people who want this seed in Manila, I was thinking - could I put it in an envelope? Is it going to be viable? I don't know the answer to that, but everything I am doing is really observation and learning from doing and learning as I go. I think that's really what farming is - you learn as you go."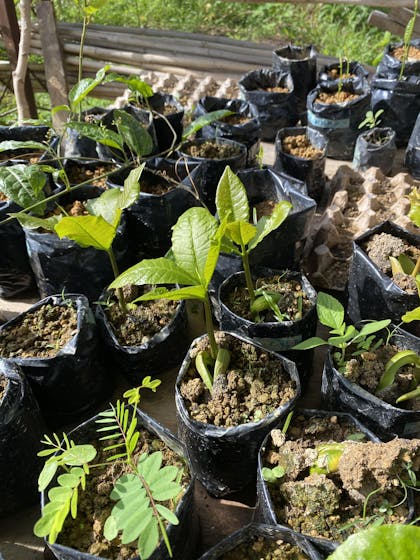 Look at those just-sprouted babies. Can you guess what seedlings these are? Answer is cashew! In the foreground is an edible flower called caballero. Karla and her 16-year-old daughter Uma forage for seed pods for fun. These are planted from seeds they foraged. This is a nursery for community edible gardens and food forests that Karla and fellow permaculture practitioners are planting in El Nido, Palawan.  (Caption by Karla)
---
Lessons from the seeds
Karla's passion is evident in the way she relates her experiences with seeds. "I have been eating fruit and the seeds are already rooting in the fruit. So of course I save them and plant them. And now they're sprouting. It's just amazing to see."
She also shares that fruit seeds are best planted right away and names the jackfruit seed, which she plants a lot of, as an example: "If you are not going to plant it that instant, I suggest that you put it in a bowl of water because there's something on the seed that keeps it viable and it needs to remain wet. That's what I did and it worked. When I planted it, it really grew beautifully."
There are times, however, when the situation calls for more experimentation. She and her daughter found many kurumbot (passiflora foetida) seed pods while foraging in May last year, but they did not grow. This year, she tried planting them in three different types of soil and they sprouted! She attributes her success to planting the pods immediately; the first time round she had saved them and hence, they were not viable by the time they were planted. 
"There are lessons with each season...What I learn from last season, I apply to this season,"  Karla reflects with a wisdom that suggests that plants can offer valuable lessons on life.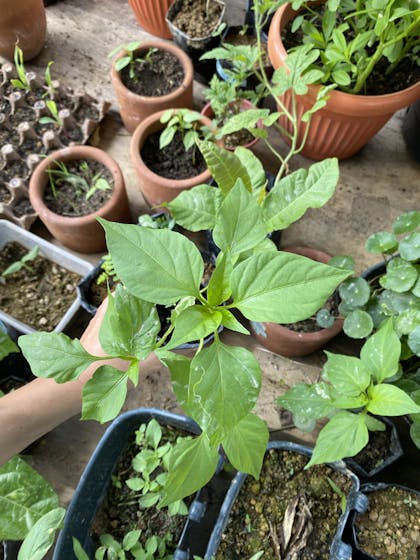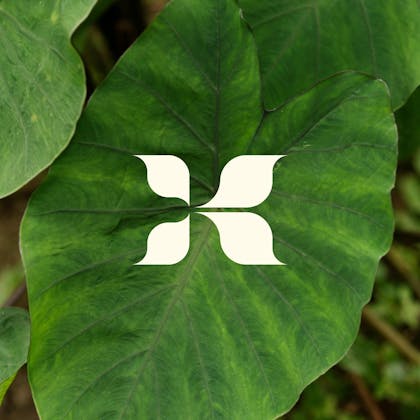 The bigger picture
Karla acknowledges the relevance of Singapore in environmental matters. "Singapore has been really amazing in terms of presenting, appreciating, valuing and sharing the botanical heritage," she says. Inspired by the beauty of its landscape and unafraid to imagine, she adds: "I wish we could have a Botanical Gardens here. That's a dream. Maybe I should make that happen!"
For now, Karla proudly declares, "Kai Farms is a living museum of native trees. We actually have an area of it - an arboreto - with a lot of native trees which are key to ecosystem restoration." Emphasising that this is the UN decade for ecosystem restoration, she adds, "It is something we have been doing for a while and we continue to do."
In this regard, Kai Farms is a place where communities can come together to repair broken lines of ancestral knowledge and spread its invaluable teachings. To Karla, there is a quality of sacredness in seeds. "The seeds connect us for generations and are a key part of resiliency," she says. "They have so much wisdom within."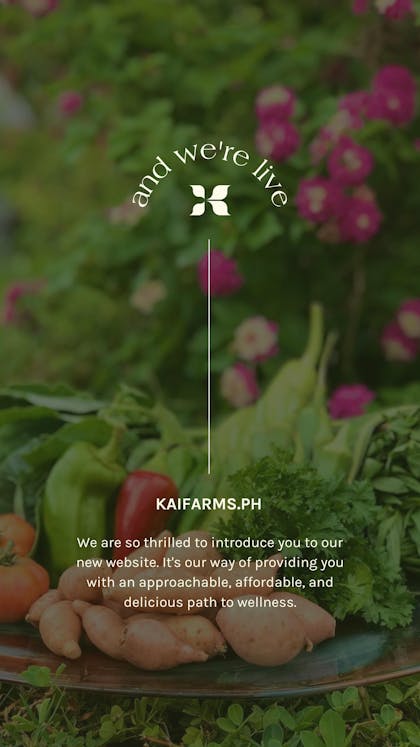 Follow and learn more about Kai Farms on Instagram @kaifarmsph or check out their newly launched website at kaifarms.ph
---
Following are the writer's reflections
I walk down the fruit aisle of the supermarket. Berries are packaged in sturdy plastic boxes. Mexico, Chile, USA, Zimbabwe - their labels say. I know the bananas come from the Philippines and even as far as Ecuador. Apples from New Zealand, South Africa. Peaches from Spain. Grapes from Egypt. 
I wander through the vegetable section. Vegetables covered in more plastic, styrofoam and cling wrap. Thailand, China, Korea, Malaysia. So many different countries. What distances they have travelled from farm to supermarket!  
With mostly imported produce available year round, it is easy to feel disconnected from the seasons of nature and the magic that lies dormant but very much alive in the humble seed. It can be tricky to feel a part of this magic in Singapore where we often miss the growing process and opportunity to support this. 
However, listening to Karla Delgado speak, the distance between Singapore and the Philippines seems more geographical than anything. As I look up the plants she mentions, I see how similar they are to those we find here in Singapore. Indeed, we are connected in more ways than we realise. 
Karla's philosophy towards farming is a universal and beautiful one. It is a call to remember that we need not know all the answers to take a step forward. And that change happens in little ripples that gather strength through community to form waves. I am curious to learn more.
---
This article is part of Beyond Borders. Check out this Community Seed Map to see who else is doing their part to save and share seeds!

As part of the SEEDS issue, we have made this map with the kind support of Kontinentalist. If you are a seed-saver or know of someone or other communities active in seed-saving and distributing initiatives, we invite you to contribute and add to the map! Simply email us at foodscapepages@gmail.com.

We hope you have enjoyed this article! Next, we have From Consuming to Cultivating.
Click here if you would like to return to the content page.
Food security
Community
Seeds
---
About the author
Madhu is full of curiosity about life. She loves being outside with nature and observing its beauty in flowers, trees, birds and other creatures. She also loves exploring movement, mindfulness and wellness practices, and finds the natural environment a wonderful reminder to slow down and feel the present moment.

Deeply fond of fresh, wholesome foods, she enjoys baking treats to share and meals prepared with love. She also recently re-discovered her passion for art and drawing and is inspired to make more time to create. It's the easily overlooked little everyday things that bring her the most joy.

Her travels and experiences have led her to form meaningful bonds with people from different cultures and places such as the USA, Canada, Mexico, Spain, Italy, Philippines and Bali. Recently, she has been learning more about gardening in Singapore and is thrilled to discover different plants and flowers around this green city.
Contact Us
Drop us an email or DM on Instagram if you would like to give us feedback, support us in any way, or just to connect!
Foodscape Collective
Foodscape Collective is a ground-up community with a mission to co-create a fair and inclusive circular food system for all. We work together to create communities and livelihoods through collaborative and supportive practices.
---
Copyright (C) 2022 - Foodscape Pages. All Rights Reserved