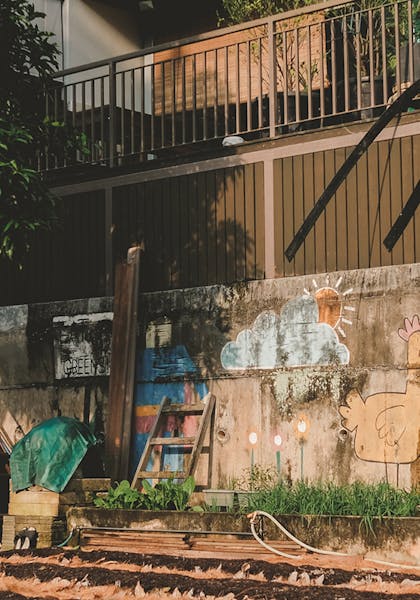 Local Food Systems and Climate Change
Jen Chan, Chen Chingwei
19 February 2022
---
A photo essay initiated and photographed by Jen Chan between May 2020 and April 2021, text by Chingwei Chen. This is the first part of a series of farmer's story which will be published following this main article.
---
Jen is perched on the top of a ladder, erected on a grassy verge, in the middle of an unassuming estate in Hougang.  She is in full shooting mode, with a large camera obscuring her face, eyes in a permanent wink, finger on the shutter, oblivious to the passing buses and curious glances of people walking by. 
A wedding photographer by profession, her focus this time is not a happy couple. It is a community food gardener, who is standing in front of his guerrilla garden patch, next to a mass of thriving pumpkin vines. He moves about under Jen's directions as she snaps away. 
Beneath her serene bohemian surface, Jen has been grappling with a tough and gnarly topic - climate change. It's been weighing on her mind for a long time. She has read extensively and thought deeply about it over a number of years; diving into books and papers, talks and films, followed public discourse by experts in the field, and held long discussions with friends.
For Jen, climate change isn't just news about destructive weather events ravaging far away lands, but something far more personal and all-encompassing that verges on an existential crisis, one that could adversely impact us right here in Singapore. The crux of this crisis, for a country that relies predominantly on overseas agriculture to feed its people, is the continuity of our food supplies.
When the global pandemic knocked the world off-kilter, it also brought greater urgency to Singapore's food security drive. It was no longer enough to make sense of climate change, Jen felt compelled to act. She decided to use her strength in portrait photography to focus on hopeful possibilities, and one of these possibilities is the nascent grassroots nature-based urban farming community.
"Farmers are just as essential, too" said Jen, who had completed a photo essay about essential front line workers in Singapore at the beginning of the pandemic, and realised food growers were missing from this hero list. 
Production is not the only thing we should focus on. Farming is also about the well-being of the land and the people - that's what we should treasure as well. But people don't think about this.
— Jen Chan, photographer
As a permaculturist and compost maker, I resonated with Jen's perspective. During 2021, we met at various food gardens around Singapore, and I watched her transform from a petite, feminine, philosophy-reading thinker into a bendy human tripod. In those moments, balanced precariously on a wobbly stool, or awkwardly straddling a drain, Jen is fully absorbed in becoming one with her camera, and together they frame and draw out the essence of her subjects: a group of regenerative urban farmers in their natural element - their food gardens.
In Singapore, with limited land, farming has a very different meaning than other countries with vast swathes of countryside. Decades ago, at crossroads as a nation, we chose urban development and industrialisation, which leapfrogged us into the ranks of the first world. Hardly any first-world nations had to choose between industrialisation and agriculture; our size meant difficult choices had to be made. What fell on the wayside was a tradition of small-hold agriculture and farmers, and so the knowledge, lore and land wisdom faded away with them. 
Here we are in 2022, at another kind of crossroads. Farming and the self-sufficiency it can afford are now at the forefront of our national consciousness.
The thing is, this time round, although we may once again choose to go down the tried and tested route of hard science and efficient extractive technology to ensure utmost output, there is also an openness to embrace the circular science of agroecology and regenerative food-growing practices that are a mutualistic collaboration between humans, earth and nature. 
Could there be many pathways to food security? Might we become a society where food-growing systems can take place in enclosed climate-controlled structures, as well as in the many green spaces dotted around our island? 
Can we become a society where ideas such as biodiversity, soil regeneration, open-pollinated seeds, pollinator corridors, food forest, compost making, and farming as vocation can flourish; side by side with concepts such as engineering, robotics, software, farm technicians that are being used in relation to food security? 
Absolutely. 
Through this photography project, we would like to introduce you to five individuals who have started regenerative food-growing in unlikely spaces around Singapore. Each of them is driven by their own vision of what food security could look like (and taste like!), and each finding their own way to learn and build knowledge and experience, in the absence of local agricultural tradition and support network. 
They are young and aspirational self-starters, part of a nascent grassroots nature-based urban farming community. They have persisted, through action and engagement, to arouse people's curiosity about the different possibilities of farming. In the long run, with recognition and support, they may demonstrate how a climate-beneficial way of food-growing could take root in Singapore, and even pave the way for a new generation of Earth-conscious and community-minded farmers to become an essential part of our society in the years to follow.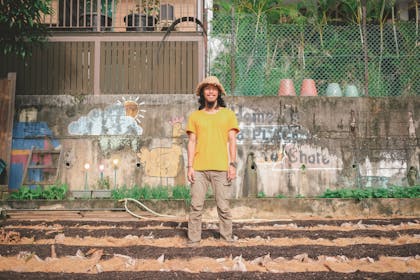 Marcus Koe - Your friendly neighbourhood urban farmer championing small-scale regenerative market gardens.
---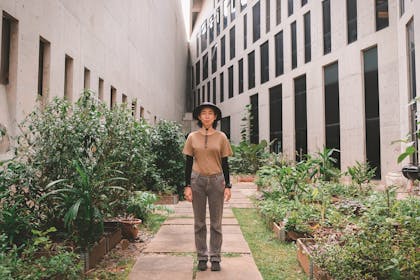 Ang Ee Peng - A Zen syntropic farmer closing the loop in an industrial building.
---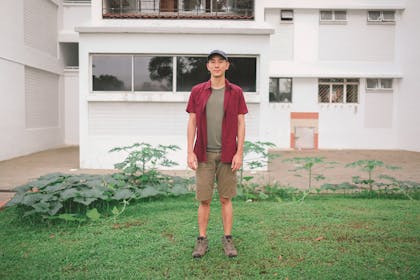 Chris Leow - A sustainable food consultant and community gardener for a un-gated biodiverse edible garden.
---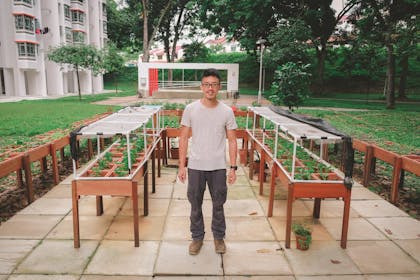 John Tay - A creative urban farmer with a focus on social equity and empathy.
---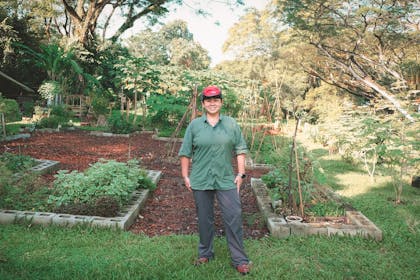 Michelle Tan - A forager and food grower who sees abundance all around our city.
---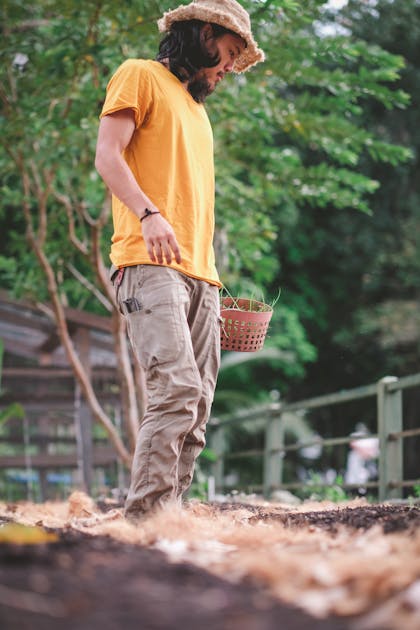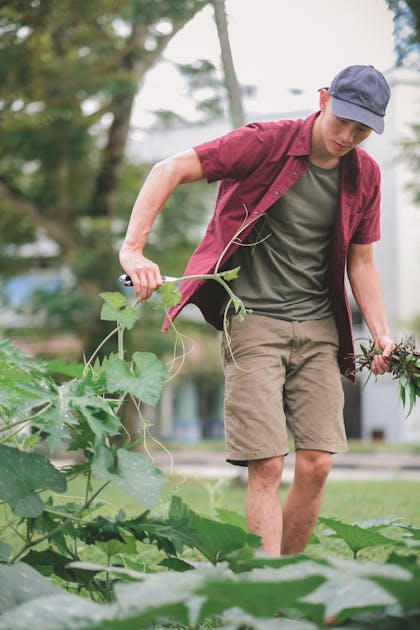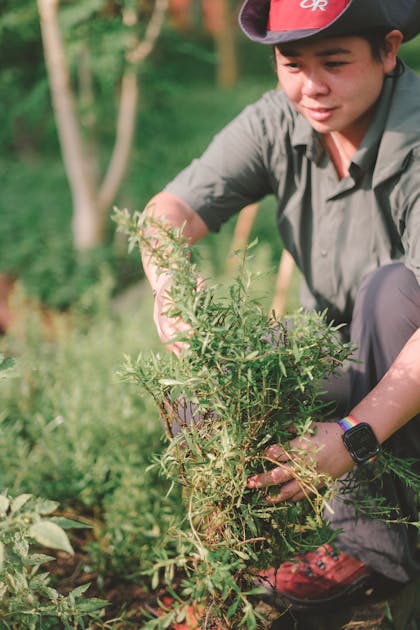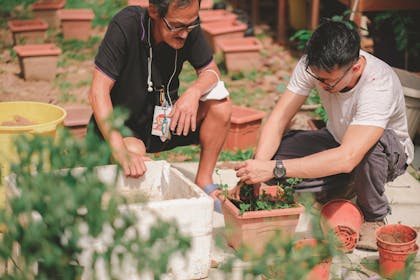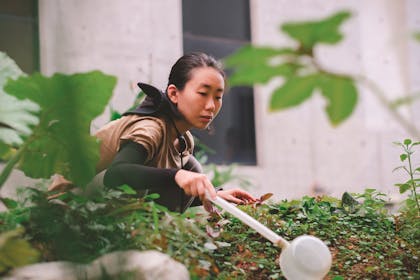 ---
Singapore Food Story
Food security
Climate change
Ecology
Food Systems
---
About the authors
I'm Chinese, but perhaps with gypsy blood. I prefer referring myself as a citizen of the mother Earth. I was born and raised in Hong Kong and educated in Canada. I've also stayed in Singapore and Australia. Recently I've moved to Berlin to continue my adventure in Europe.
Keeping a childlike curiosity towards the world I live in and my finger firmly on the pulse of society, I would indulge myself at the corner of the street soaking up every detail of a building or mannerism of a passerby. A somewhat introvert who sometimes just hides inside her hamster ball. I started taking portraits to build the bridge to connect with people. I strive to create meaningful experiences through taking photographs and I continue to try to capture a sense of curiosity, compassion and sensitivity in my photos. 
I am a Singapore-born Australia-based permaculturist, soil advocate and compost maker.
Proper-sounding labels aside, I am a country girl at heart, happiest when I lived off-grid amongst wildlife, planting trees and growing close to 70% of my own vegetables and herbs.
An innate curiosity (a.k.a. kaypohness) and a need for constant experimentation led me back to Singapore to co-lead Project Black Gold, a community food scrap composting project with the aim to create awareness and encourage more people to become compost makers. I also co-create at a social venture called Food Citizen.
Contact Us
Drop us an email or DM on Instagram if you would like to give us feedback, support us in any way, or just to connect!
Foodscape Collective
Foodscape Collective is a ground-up community with a mission to co-create a fair and inclusive circular food system for all. We work together to create communities and livelihoods through collaborative and supportive practices.
---
Copyright (C) 2023 - Foodscape Pages. All Rights Reserved