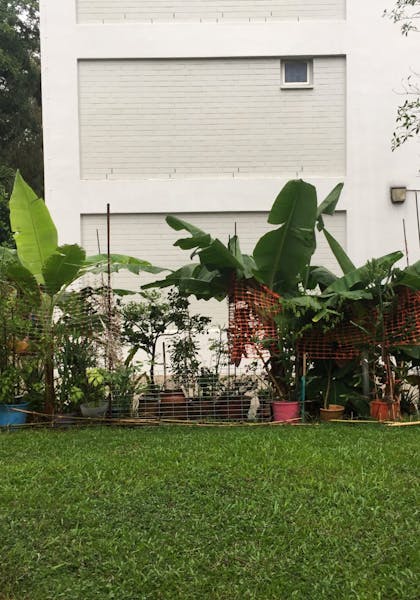 My journey of starting a guerrilla garden – I
Christopher Leow
28 July 2020
---
This is the beginning of a series of posts detailing a journey and an experimental process of seeding a guerrilla garden and letting it take shape in our midst. How will this pan out under watchful eyes? Will this be a fruitful pursuit? Follow me as I share my journey and stories from the field where I convert a plot of underutilized green space into an edible garden
---
Every passerby struck fear in me. I sensed that I was being watched with suspicion. Would a netizen snap a photo of me planting seedlings into the grassy plots within our residential housing areas. Would I be shamed online? Just days ago, a lady in the neighbourhood nearby who had similarly started a garden plot in one of these grass patches received a complaint and had a notice for removal placed at her garden. She, however, managed to negotiate with the Town Council and got to keep her space. Though the rules and regulations about the utilization of our common green spaces were not explicitly laid out, it really wasn't rocket science to know that what I was doing would probably raise eyebrows in the eyes of the law. There were many stories of other gardeners who tested the concept and planted in common areas but had their plants removed too. I had thought of going through the 'right channels' such as the Town Council, but I had a strong feeling that the chances of getting it would be zilch. This was a new request to a nonexistent system, and these things that attempt to rock the boat usually get nullified unless it is compelling enough. Neither did I want to apply for a community garden with the People's Association, where I am required to gather a group of gardeners and have my garden fenced up and strictly managed under very specific rules and regulations. I weighed all options, and taking cue from some experiences in entrepreneurship, my hunch —  'do first, apologize later.'  
Making a case for my edible garden 
To some extent, knowing that I was not the only gardener in the neighbourhood who had attempted planting into the common ground had given me some confidence. There are an assortment of fruit trees and plants littered all around the estate; the crop varieties ranged from towering jackfruit trees to prickly pineapples. In fact, there was a famous gardener living in the same block as I was (BLK 142 of Serangoon North Ave 1) who appeared in the papers for growing grapes. I was in fact part of this group of gardening enthusiasts who were extremely creative and resourceful. They utilised every single nook and cranny of available space and grew plants with upcycled materials such as water bottles. The carpark of block 142 is a perfect example of this spirit of resourcefulness. I feel that it gives this estate a lovely and unique charm that is hard to find in newer estates.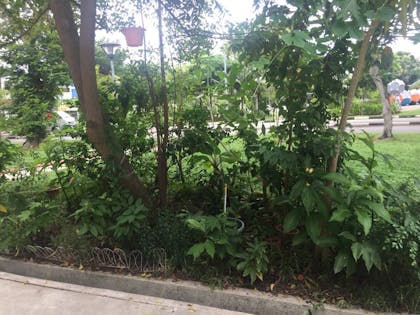 Some residents who have been planting in the ground with food forest concepts.
One of my motivations to start the garden was that with the COVID situation, the global food supply chains were shakened. In the initial phase our food supplies were disrupted. The farmers in our neighbouring countries who supplied vegetables to us were facing challenges with logistics and movement. The situation led to a panic buying spree in wet markets and supermarkets. By growing food for the community, I was doing my part to build resilience in the food system.
From there, I envisaged that I would eventually be able to create a community around this garden. I wanted this to be an 'open concept' garden and hope to engage and interact with people from my neighbourhood. I wanted to be able to share plant cuttings, harvest from the garden, and stories with people living here, possibly catalysing the birth of a new community. 
Giving myself the permission to 'do first, apologize later'
The space was fairly sizable. It measured 20 metres in length, by 10 metres in width. It was slightly trapezoidal in shape and had a concave edging, touching a walkway. On the side closer to the apartment blocks was a straight edge that led sharply to a narrow stormwater drain. Right at the centre, on top of the ever-so-slight hill was a palm tree, standing proudly at this virgin piece of land – the only patch out of dozens in the estate that had not been planted in. I had walked past this plot everyday for the past decade, and wondered why it had not yet been taken up by other gardeners. Was this some sort of sign from the universe telling me to leave behind a legacy?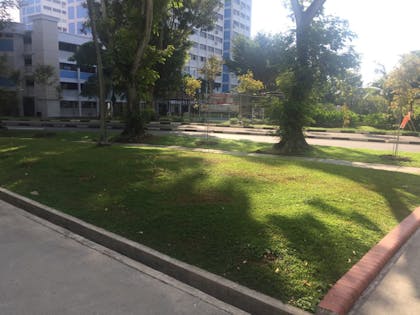 The empty, virgin garden patch I walk past daily.
I started sketching multiple concepts, such as a well organised-key-hole garden, or a lush and productive food forest – a multi layered, diverse mix of different edibles which resembled the diversity of a rainforest. I imagined snaking wood-chip lined paths lined with striking Marigold shrubs amongst fruit trees and edible herbs that would create a welcoming atmosphere to garden visitors and provide a therapeutic effect when stepping into the space. However, this concept required a huge amount of planting material to make a strong visual impact, which meant heavy cost and having to purchase external inputs. Plus, it might be a little too ambitious considering having no guarantee for the use of the space.  After much consideration, I decided to settle for something more pragmatic – rectangular plots that were more versatile, and could be scaled up when new planting inputs were made available. In the event that I would have to have my garden removed, it was better to put up something that could be fairly easy to pack up. Within each plot, I envisioned a simple planting concept – having 3 main components, a tree, a ground cover, and a climber. This concept of 'companion planting' was popularised by The Three Sisters method practiced by the Aztecs, where the three staples of their culture are often planted close together – beans would climb up corn, and pumpkin would cover the ground, maximising vertical space through this clever, synergistic approach.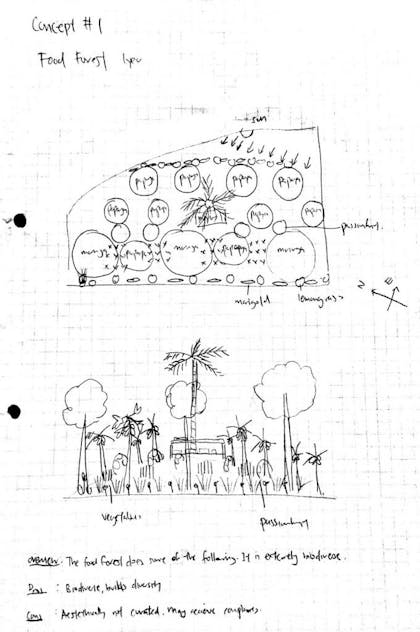 My 1st sketch: A food forest concept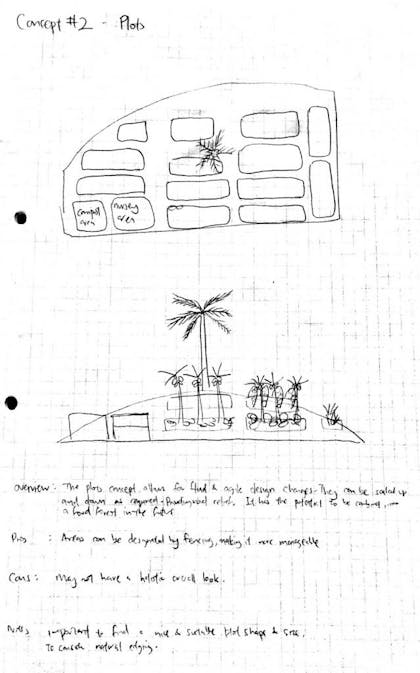 My 2nd Sketch: An expandable plot concept
I was extremely curious to know how successful this garden could be without buying any inputs. No fertilizer, no addition of soil or purchased seeds. I was inspired by Gabe Brown's book 'Dirt to Soil'. The North American farmer encountered extreme weather events that destroyed his crops multiple times. Almost at his wits' end, with no money to buy chemicals, he decided to do a little experiment to see how crops grew naturally. And grow they did! His land had improved in fertility, and produced yields which exceeded that of his neighbours who had used chemicals. Knowing this, I wanted to explore how far I could go with as little as possible. 
Now armed with a proper plan, I could not wait to put all the concepts of regenerative farming I've been reading about to work.  I was excited to start my guerilla garden, I was curious to see how far this vision could be realised.
Community
Edible Gardening
Guerrilla gardening
---
About the author

Christopher Leow
Chris has a deep interest in the entire food chain. He has spent the last decade delving into different aspects from Farm to Table - working as an Urban Farmer, Grocer and Chef, in both urban and rural areas. He is particularly interested in improving the food system by making it more sustainable and equitable. He hopes to share his experiences and thoughts through the Foodscape Collective network and connect with like-minded individuals.
Contact Us
Drop us an email or DM on Instagram if you would like to give us feedback, support us in any way, or just to connect!
Foodscape Collective
Foodscape Collective is a ground-up community with a mission to co-create a fair and inclusive circular food system for all. We work together to create communities and livelihoods through collaborative and supportive practices.
---
Copyright (C) 2023 - Foodscape Pages. All Rights Reserved