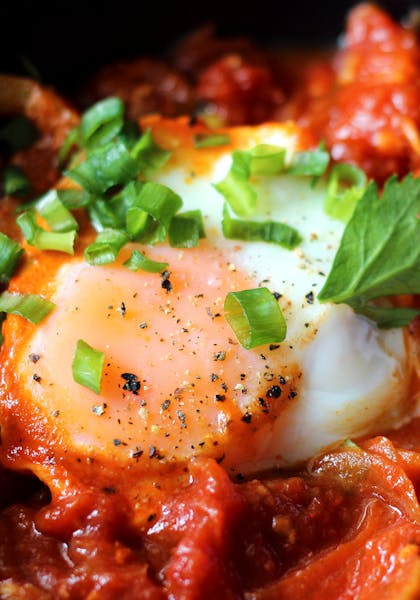 Shakshouka
---
The COVID pandemic is not just a public health disaster, but a moment in time where social routines are disrupted and created. Eating out is my family's main food routine, and unfortunately, that was significantly disrupted. With my gainfully employed family members now chained to their home/work desks (no pun intended), their corneas seared daily by blue light from screens and meetings, no one has had much energy to go out or much time to cook. 
When the circuit breaker began, I was one of those fortunate enough to be out of a full-time job (yes, you heard right). In a bid to improve the quality of our otherwise ascetic diets, I realised that it was time for me to do my part for this new factory of a house. Instead of microphones, butt cushions and monitor screens, I equipped myself with a shopping bag and dusted off my stack of recipes that I had only bothered to write down.
I was first introduced to this Mediterranean dish five years ago when I was doing research, so I told myself back then, for my honours thesis. Being exceptionally fascinated by that grand dame of laissez-faire in the kitchen, Nigella Lawson, I watched rapturously as she prepared an Italian variation known as Eggs in Purgatory — in a black dress and heels no less.
After further research, this time for the sole purpose of gastronomic pleasure, I decided to make this again for lunch one day, utilising Spanish chorizo, coriander powder and (more) smoked paprika to intensify both flavour and fire. These are not regular ingredients as far as my soy sauce and sesame oil-oriented family is concerned, and it was heartening to watch them nodding their heads silently in approval, trying hard not to look like they were wolfing it down, before slinking back to whatever their attentions were chained to before eating.
Having tasted this shakshouka, I can only hope that to my family members — behind each of their closed doors, the lunches and dinners that I have made a point to cook (almost) every day can at least, serve as a pleasant fracture in their otherwise work-absorbed lives, a moment of pleasurable uncertainty (I never tell them what I'm about to cook, to preserve my sovereignty as a cook) amid regular grouses and frustrations of the day.
---
This article was published under the open call Food in the time of Covid. We asked people to send in stories that explore dimensions of food and life under a period of uncertainty and lockdown in 2020. Learn more about it here.
---
About the author

Andrew Lim
Although Andrew's business card says he is a 'research assistant', he has recently spent significantly more time researching recipes and messing up the kitchen, cooking for unfortunate souls kind enough to taste and tolerate his culinary misadventures. Having studied psychology, sociology and a bit of social work in his university days, he is as interested in interdisciplinary perspectives to mental health, as he is in understanding how food is more than just fuel — but expresses something unarguably authentic about the way we live and feel, whether as individuals or as a society.
Contact Us
Drop us an email or DM on Instagram if you would like to give us feedback, support us in any way, or just to connect!
Foodscape Collective
Foodscape Collective is a ground-up community with a mission to co-create a fair and inclusive circular food system for all. We work together to create communities and livelihoods through collaborative and supportive practices.
---
Copyright (C) 2022 - Foodscape Pages. All Rights Reserved