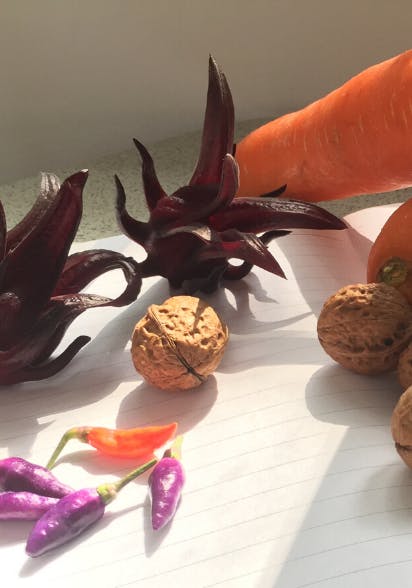 The Birth of Foodscape Pages
Foodscape Pages
22 January 2020
---
With the growth of Foodscape Collective, a sister branch of the collective has emerged – Foodscape Pages. Pages is a space for creating stories of, about, around food for people and the planet. Pages will serve as an alternative source of text, video and podcast relating to our food system.
In recent years, there has been an increased focus on food safety and security, locally and globally. Singapore has a founding national narrative of land scarcity and many citizens and long-term residents are not aware of the city-state's many local farms, mostly in the Bah Soon Pah, Lim Chu Kang and Kranji area. 
Though these local farms meet only a small percentage of the local population's needs, they provide safe and fresh produce, including some vegetables, mushrooms and eggs. A few farms are also open to the public, who can visit to learn about how their food is produced and where the food comes from. 
As Singapore matures and enters its next stage of growth, we see her national narrative pan out promisingly as the world evolves and changes socially, politically, economically, culturally, ecologically and spiritually. Since 2005, the National Parks Board's Community-In-Bloom programme has led to many community gardens taking root across the country. At the end of 2017, the Agri-Food and Veterinary Authority of Singapore (AVA) announced the parceling of 12 plots of land for food production, out of which 10 were awarded. In 2018, the Singapore Food Agency (SFA) was formed and the AVA dissolved. Throughout 2018 and 2019, land parcels have been continually put out to tender.
To meet the growing interest in exploring ways of producing our own food, Republic Polytechnic launched Urban Agricultural Technology, a part-time, continuing education programme for individuals seeking to develop a career in the food industry. From 2017 to 2019,  the food technology start-up "ecosystem" developed steadily: accelerators, investor pitches and co-working spaces have rapidly oriented their work around the agri-food sector. 
The agri-food concept has invigorated Singapore's start-up scene with a new boost of energy. Yet, this has barely scratched the surface of the new playing field created by food and agtech, which can achieve the food-system transformation that the human civilisation desperately needs: the recognition of our interdependence across geographies. But to truly have global human consumption sit within our planetary boundaries, our imaginations and tools must grow beyond the current models of high-tech farming. 
---
The new food system paradigms we need are the ones that disrupt outdated models of enclosed ecosystems reliant on a scarcity-based model of production, Intellectual Property rights, and fossil fuel energy. What we believe to be efficient and effective deserves a second glance.
Our lifestyles as consumers are also changing. We seek to participate in making culture, in feeling empowered to step forward and to grow into our collective presence. We want to discover the joy of reconnecting with an intergenerational craft of cultivating and nourishing agri-cultures, coming together over a meal we prepare together, growing our own food with a community, and learning to find the home of imagination and inspiration. 
Many local city-dwellers are seduced by the idea of going back to basics, leaving the city to learn about permaculture, biodynamic, syntropic, regenerative and natural farming. When they return, more than a few turn their attention to activating small spaces in Singapore while a handful choose to work in larger spaces in the nearby region and beyond. Having moved beyond merely consuming, they carry resources that complement the needs of the start-up ecosystem: experience, skill, and knowledge about the changes physically taking place on farmland.
This brings us to the larger conversation surrounding food production, safety, security and sovereignty. As we continue to navigate these big issues that impacts our lives closely, we found that coming together as a community renders support to empower us as individuals to actively participate in these big issues.
With Pages publishing the long and short forms of expressions and voices of the people, holding space for community convergences, we are excited to see what may emerge from our collective consciousness during these times of change and transformation.
The Editors
Foodscape Pages
---
About the author
Foodscape Pages
Contact Us
Drop us an email or DM on Instagram if you would like to give us feedback, support us in any way, or just to connect!
Foodscape Collective
Foodscape Collective is a ground-up community with a mission to co-create a fair and inclusive circular food system for all. We work together to create communities and livelihoods through collaborative and supportive practices.
---
Copyright (C) 2022 - Foodscape Pages. All Rights Reserved